Abshire on "Science Goes to the Movies" Live at World Science Festival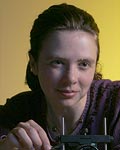 Clark School of Engineering Associate Professor Pamela Abshire (ECE/ISR) is taking part in the World Science Festival which is taking place in New York, NY, June 1-6. She will participate in a live segment of "Science Goes to the Movies" made possible by the Alfred P. Sloan Foundation and CUNY TV. The discussion will focus on cutting edge technology's effect on modern warfare and the modern soldier through the introduction of automated drones. The panelists will explore the technical, ethical and psychological effects of drone warfare.
Abshire's areas of expertise are in the fields of integrated circuit design and bioengineering. Her research intersects electronics and biosystems spanning the creation of sensory interfaces for living systems to electronic systems with performance and behavior inspired by natural systems to better understanding of the tradeoffs between performance and resources in natural and engineered systems. At the University of Maryland, Abshire directs the Integrated Biomorphic Information Systems Laboratory.
Heather Berlin, a neuroscientist from the Ichan School of Medicine at Mount Sinai and Faith Salie, an author, journalist, and comedian, will moderate this panel. Other contributors include Bertram F. Malle, a cognitive scientist and professor of cognitive sciences, linguistics, and psychological sciences at Brown University. This program is presented in collaboration with The Museum of the Moving Image.
Published June 2, 2016