Alumnus Brendan Hanrahan's decade of running for medical research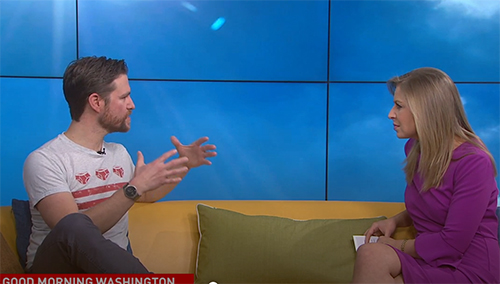 In the past 10 years, alumnus Brendan Hanrahan (MSE Ph.D. 2013) has raised close to $19 million for Neurofibromatosis (NF) research through Cupid's Charity, a recognized 501(c)(3) non-profit. With Chad Leathers and Bobby Gill, Hanrahan founded the organization while a University of Maryland graduate student.
The most recognizable event associated with the charity is "Cupid's Undie Run," which began in Washington, D.C. in 2010, during the infamous "Snowmageddon" blizzard. The Undie Run is an all-day event that includes a run of about a mile through the city streets in underwear and costumes, followed by an epic dance party. All net proceeds from Cupid's Undie Run funds research through the Children's Tumor Foundation, the world's leader in NF research.
The event has grown over the years; this year 38 cities are participating throughout the month of February. The D.C. event was held on Feb. 8.
Hanrahan recently appeared on Washington, D.C. WJLA Channel 7's "Good Morning Washington" show to talk about the 10-year anniversary of the Cupid Charity's Cupid's Undie Run, and the important person and cause the charity honors.
| Watch Brendan's interview here |
Hanrahan is a materials engineer at the U.S. Army Research Laboratory. At Maryland, he was advised by Professor Reza Ghodssi (ECE/ISR) and conducted research in the MEMS Sensors and Actuators Laboratory.
Published February 8, 2020