Alumnus Natalie Hagan Receives Advocating Women in Engineering Award from SWE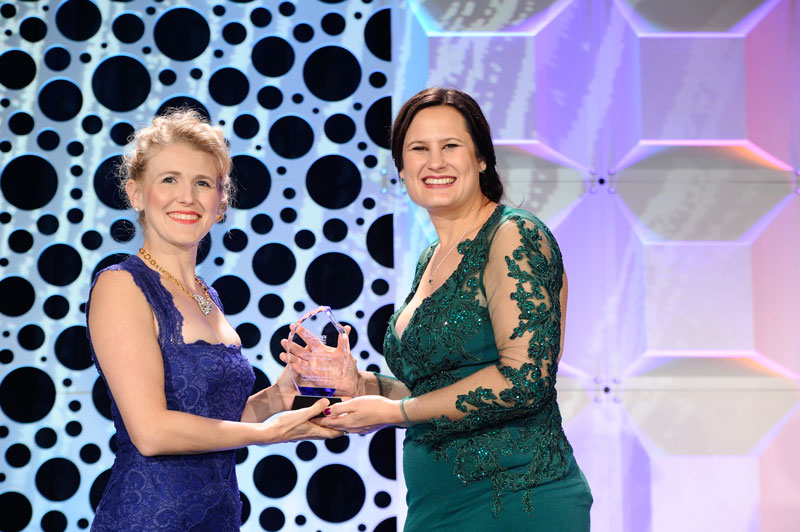 This past fall, ECE Alumnus Natalie Hagan won the Advocating Women in Engineering Award from the Society of Women Engineers (SWE) for "sustained excellence in software reverse engineering and cybersecurity, and for inspiring and empowering other women engineers with engaged leadership on diversity and inclusion."
The award honors individuals who have demonstrated professional excellence in their chosen STEM fields and have proven to be an advocate of women in engineering and SWE's objectives. Only 5 of this award is given world-wide each year.
Hagan is an electrical engineer in the wireless cyber capabilities group at The Johns Hopkins University Applied Physics (JHU/APL), where she performs reverse engineering and driver development on classified projects and high-level language development. She received her B.S. in Electrical Engineering from the University of Maryland, College Park in 2001, and her M.S. in Electrical Engineering from The Johns Hopkins Whiting School of Engineering.
Hagan's support for women in engineering has not only established her as a role model for women engineers but has resulted in substantial workplace changes at JHU/APL. She has championed changes to improve recruitment and retention of diverse staff, and she has initiated a series of outreach inclusion events, to develop women leaders and to advocate women engineers to senior management. Hagan's efforts towards inclusion ensure that lab projects include the talents, perspectives, and contributions of all the people working there.
Hagan was recognized on October 28, 2016 in Philadelphia, PA at WE16, the world's largest conference for women engineers.
SWE strives to advance and honor the contributions of women at all stages of their careers as well as recognize the successes of SWE members and individuals who enhance the engineering profession through contributions to industry, education and the community.
Published June 5, 2017