Baras Gives Keynote at GE Symposium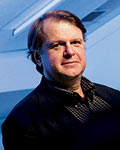 Professor John S. Baras (ECE/ISR) participated in the 2011 GE Global Research Controls Symposium and delivered a keynote lecture on September 22, 2011. He was invited to the General Electric Central Research Laboratories in Niskayuna, New York from September 21-23, 2011, at the invitation of Dr. Paul Houpt of GE, who is a member of the ISR Strategic Advisory Council.

Dr. Baras' lecture was entitled "Control Science and Engineering: Providing Foundations for the Emerging Model-Based Systems Engineering Discipline". Baras presented the emerging framework for model-based systems engineering (MBSE) that consists of an integrated modeling hub and various application methods/tools including tradeoff analysis via optimization. At the center of the integrated hub the recently developed and adopted SySML is used as both a system architecture language and as an integration catalyst. He argued that systems and control methodologies together with their associated analytical, numerical and modeling frameworks provide excellent foundations for this emerging framework.

He also presented very brief descriptions of recent applications of this emerging framework to robotics, communication networks, commercial aircraft, automotive, MEMS, nanosystems, sensor networks, energy efficient buildings, power grids, network security, manufacturing, healthcare. He closed his lecture with a list of key R&D challenges ahead.

More than 200 GE researchers from 19 GE businesses and laboratories participated in the Symposium. Participants represented nine countries from across the world. The symposium covered a variety of research topics related to systems and controls including: electrical technologies and systems, flight controls and vehicle management systems integration, advanced building control systems, phasor estimation and wide-area controls in large power grids, fuel optimal and advanced aircraft flight controls in uncertain environments, model-predictive control for plants and factories, model-based control for water treatment systems and wind turbines, model-based control of aircraft and rotorcraft turbine engines, sensor networks and sensor placements, control of electrical vehicles, control techniques for network protocols, signal processing-sensing-controls for medical instruments, system of systems architecture, control systems simplification, sensor technologies for energy, engine control software, safety critical aerospace systems, multi-core processor architectures for control systems.

Dr. Baras met with GE researchers and officers, visited specific laboratories, and discussed extensively collaboration plans between GE Global Research and ISR in several of the areas of the symposium. It is expected, and indeed planned, that as a result of this visit and presentation increased collaboration between GE Global Research and ISR will result in several technical areas.
Published December 8, 2011