Liu Receives Honor from China's Northwestern Polytechnical University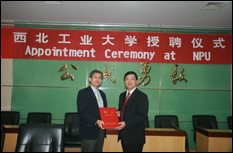 Dr. K. J. Ray Liu received the honor of Advisory Professor, the highest honorary professorship bestowed by Northwestern Polytechnical University (NWPU) in the ancient capital city of Xi'an, China. The ceremony appointments were conferred by the President of the University, Chengyu Jiang.
Dr. Liu was recommended by the NWPU faculty and leaders of the university, which was met with the approval of administrators from the Dean to the University President.
It is President Jiang's hope that inducting "the internationally renowned professor [Dr. K. J. Ray Liu] can help in the training of young teachers, school personnel and advancing research disciplines; to give guidance to and increase the opportunities for cooperation offered to NWPU's professors, and promote NWPU's cooperation with world class universities."
NWPU is China's only research-oriented university of science and technology, simultaneously excelling in the fields of aeronautics, astronautics, and marine technology. The university emphasizes science and technology while developing complementary fields of study in management, humanities, economics and law.
Published December 5, 2011