Liu Selected to Receive 2012 Faculty Service Award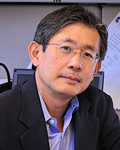 Dr. K.J. Ray Liu, Christine Kim Eminent Professor in Information Technology and Associate Chair in the Department of Electrical and Computer Engineering, was the recipient of the 2012 Faculty Service Award.
Dr. Liu was instrumental in revamping the Clark School's Master's in Telecommunications Program as ECE's associate chair of graduate studies and research. He also revised the department's graduate program to increase the size and number of Ph.D. students to rank among the largest and highest quality in the country, while leading curriculum reform at both the graduate and undergraduate level to enhance quality.
Meanwhile, Dr. Liu led by example with his research and service contributions in the field of signal processing. He is a world-renowned speaker and scholar, has been recognized as an ISI Highly Cited Researcher and serves as editor-in-chief of IEEE's Signal Processing Magazine. Amidst all of this great work, he also has advised numerous graduate students who have gone on to tenured faculty positions across the nation.
Published March 25, 2013