Alumnus Wade Trappe Honored by Rutgers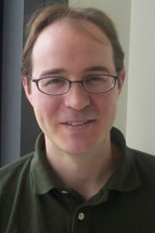 Associate Professor of Electrical and Computer Engineering and Associate Director of WINLAB, Wade Trappe (Ph.D. '02, M.S. '99), was selected to receive the 2013 Outstanding Engineering Faculty Award in recognition of his contributions to Rutgers' School of Engineering. The award will be presented on April 5th. Dr. Trappe was advised by Professor K. J. Ray Liu at the University of Maryland, and like his mentor, has become a nationally reputed authority in the field of wireless network security.
Trappe's research has focused on securing wireless networks, and expanding the tools that may be used to secure emerging mobile systems. Traditionally, wireless network security has adapted best practices from cryptography-based security methods, similar to those employed in wired networks.
Conversely, Trappe works at the boundary of theory and systems development to re-examine security concepts in the context of wireless systems and their applications. Trappe's research exploits the properties of wireless channels and communications. He has pioneered authentication techniques employing forge-resistant signatures derived from a user's wireless channel in order to combat spoofing; using multiple staggered authentication keys to preclude denial-of-service attacks in secure wireless multicasting; wireless signaling and routing protocols that provide contextual privacy for wireless sensors; and techniques for diagnosing and mitigating radio-interference-based denial of service attacks.
He is held in esteem within the Department of Defense communities like the Army Research Office (ARO) and DARPA. He is also recognized as an outstanding faculty mentor who has successfully supervised more than 14 Ph.D. students; two of whom have received NSF CAREER Awards, Wenyuan Xu and Yingying Chen.
Published March 27, 2013