Alumnus Trappe Promoted to Full Professor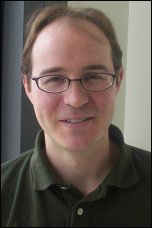 University of Maryland ECE alumnus and Rutgers professor of Electrical and Computer Engineering Wade Trappe was recently promoted from associate professor to full professor by Rutgers' School of Engineering. His promotion comes less than a month after Trappe received the 2013 Outstanding Engineering Faculty award for his contributions to the college.
Trappe received his M.S. in 1999 and Ph.D. in 2002 at the University of Maryland. He was advised by Professor K.J. Ray Liu, and like his mentor, has become a nationally reputed authority in the field of wireless network security.
Trappe's research exploits the properties of wireless channels and communications, and focuses on securing wireless networks and expanding the tools that may be used to secure emerging mobile systems.
He is recognized as an outstanding faculty member at Rutgers who has successfully supervised more than 14 Ph.D. students; two of whom received FSF CAREER Awards, Wenyuan Xu and Yingying Chen.
Published April 29, 2013