Gang Qu Promoted to Full Professor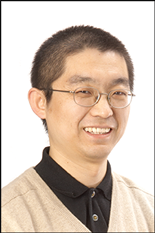 President Wallace Loh and the Department of Electrical and Computer Engineering recently promoted Gang Qu (ECE/ISR) from associate professor to full professor.
Qu has a joint appointment with the University of Maryland Institute for Systems Research.
He is the director of the Maryland Embedded Systems and Hardware Security Lab (MeshSec) and also leads the Wireless Sensor Laboratory. Professor Qu's primary research interests are in the area of embedded systems and VLSI Computer Aided Design with focus on low power system design and hardware related security and trust. He studies optimization and combinatorial problems, then applies his theoretical discovery to applications in VLSI CAD, wireless sensor networks, bioinformatics, and cybersecurity. He is among the first to study a low power design method which is now known as dynamic voltage and frequency scaling. He is a major contributor to the digital watermarking and fingerprinting based VLSI intellectual property protection, and an advocate of trusted circuit design, circuit obfuscation and practical implementation of physical unclonable functions. His research work has been cited more than 5000 times according to Google Scholar. Qu and his research group are sponsored by AFOSR, ARO, DARPA, NSA-LTS, NSF, ONR, USDA, Fujitsu Research, and Microsoft Research.
Qu has organized 4 symposiums and workshops as chair or co-chair. He has served the ACM SIGDA low power technical committee and is currently on the editorial board of 3 journals. He was the past president of the Association of Chinese American Professors and Scholars at University of Maryland and is the founding president of the Chinese Professors Association at Washington DC.
Qu received his M.S. and Ph.D. degrees from UCLA, both in Computer Science. Previously, he studied Mathematics at the University of Science and Technology of China (USTC) and the University of Oklahoma.
The ECE department congratulates Professor Qu on his promotion and wishes him the best of luck for the future. The promotion will be effective July 1, 2014.
Published May 19, 2014