Oruç Publishes Book on Writing Successful Research Funding Proposals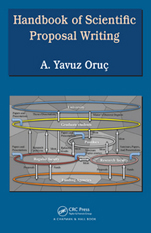 Professor A. Yavuz Oruç (ECE) has published a new book titled, "Handbook of Scientific Proposal Writing." The text includes 56 figures and 25 tables to help convey key ideas, and more than 150 citations that provide pointers to additional sources for further reading.

The book, published by CRC Press/Taylor Francis Group, describes scientific research, with examples in both basic and applied research fields. It is aimed at helping individuals understand the steps to increase the probability of receiving research proposal funding.

Written for students and researchers in all fields and disciplines, this reference book offers a holistic approach to conceiving and then converting new ideas into effective proposals. It focuses on the technical aspects of writing proposals rather than the fund-raising issues. Chapters provide full coverage of the scientific method, including information on how scientific research should be conducted.

For more information about the book, visit the CRC Press website.

Published December 8, 2011