Book Features "World-Changing" Alumna Judith Resnik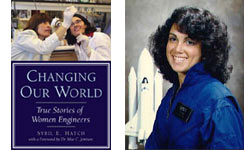 A new book titled
Changing Our World: True Stories of Women Engineers
features ECE alumna
Judith Resnik
, a 1977 Ph.D. graduate.
After graduating from the University of Maryland, Resnik went on to become an astronaut and perished in the 1986 space shuttle Challenger disaster. Resnik was remembered recently in a ceremony at Cape Canaveral on the 20th anniversary of the space shuttle disaster.
Three other Clark School alumnae are also featured in the new book: Mary Lacey, B.S. '78 mechanical engineering; Norine Walker, B.S. '81 urban studies and '83 civil engineering; and Anh Duong, B.S. '82 chemical engineering.
Through real-life stories, Changing Our World: True Stories of Women Engineers seeks to provide inspiration and encouragement for young women to pursue careers in engineering. A project of the organization Extraordinary Women Engineers, the book was launched at the National Press Club in Washington, D.C., on Feb. 21.
Published February 24, 2006