Can AI predict the stock market like a financial analyst?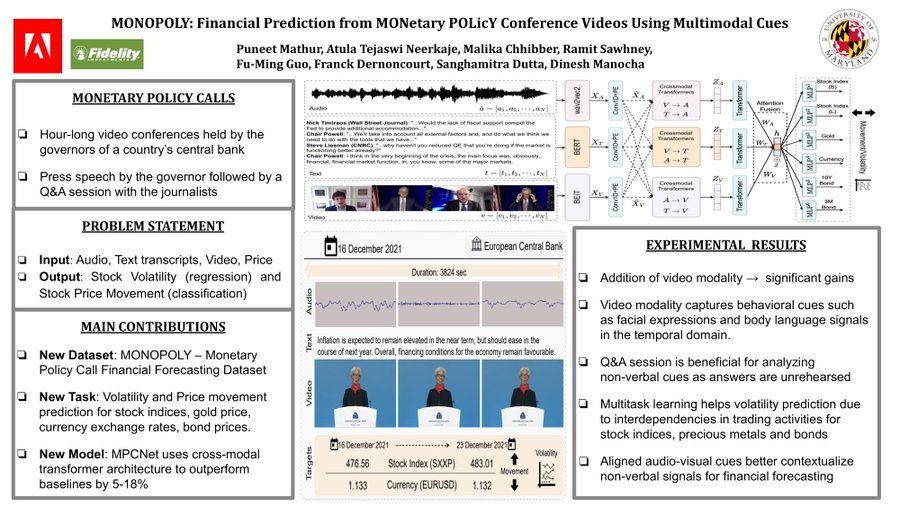 The University of Maryland Researchers have published a paper at the 2022 Association for Computer Machinery (ACM) Multimedia Conference. Entitled MONOPOLY: Financial Prediction from MONetary POLicY Conference Videos Using Multimodal Cues, the paper was presented last week at ACM's annual conference. Led by Professor Dinesh Manocha, new ECE faculty member Sanghamitra Dutta and Ph.D. Student Puneet Mathur were co-authors of the article.
In the article, the group demonstrated how AI methods can be used for financial prediction and can attain the accuracy of financial analysts. Essential tasks in financial markets include abstract risk prediction and price movement classification. By studying monetary policy calls (MPC), the group was able to analyze a country's central bank on various economic goals, including inflation, employment, prices and interest rates. To do this, they analyzed visual, vocal and textual cues from MPC calls in order to allow analysts and policymakers to evaluate economic risks and determine strong investment decisions.
As a result of these studies, the group introduced MPCNet, a neutral network architecture that allows financial risk and price movement to be forecast through cross-modal transformer blocks and modality-specific attention fusion. Initial results show that this architecture is performing 5 to 18% better than prior AI methods that used Transformers. The goal is to use this data and to promote future research in this up-and-coming area of AI-based research.
The ACM was held October 10th to 14th in Lisbon, Portugal. Since 1993, this conference has spotlighted scientific achievements and innovation in industrial products in the multimedia field. Research presented at this worldwide conference spans a wide range of areas such as machine learning, artificial intelligence, vision, data sciences, multimedia signal processing and how these areas apply to healthcare, education, entertainment, and more.
The full paper can be read HERE
Published October 20, 2022