Chellappa Named Fellow of the Optical Society of America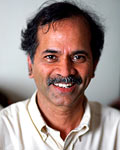 Minta Martin Professor of Engineering
Rama Chellappa
(
ECE
/
UMIACS
/
CS
) was recently named a Fellow of the Optical Society of America (OSA). In their last meeting on October 20, the OSA Board of Directors elected Prof. Chellappa to the rank of Fellow of the Society.
Chellappa was recognized for pioneering contributions in image and video-based pattern recognition and computer vision.
With a membership of more than 14,000 optics and photonics scientists, engineers, educators, technicians and business leaders from over 81 countries, the Optical Society of America is the prime Optical Society in the world. Since its founding in 1916, OSA has had 29 Nobel prize-winning members. For more information, visit the OSA website at http://www.osa.org.
Published November 18, 2008