ECE Alumnus Named President of Egypt-Japan University of Science and Technology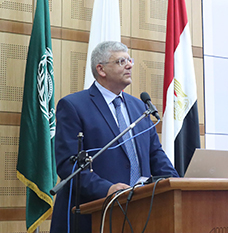 Dr. Amr A. Adly was recently named President of the Egypt-Japan University of Science and Technology (E-JUST). Prior to accepting this position, Adly was a professor in the Department of Electrical and Power Engineering at Cairo University (CU) in Giza, Egypt. Previous positions include serving in the Egyptian Government as Vice Minister of Higher Education and Vice President for Graduate Studies & Research.
Adly received his Ph.D. in Electrical Engineering from UMD in 1992, and has continued a close relationship with his Ph.D. advisor, Distinguished University Professor Isaak Mayergoyz. He earned his B.Sc.and M.Sc. in Electrical Engineering from Cairo University. Research interests include electromagnetics, electrical machines, analog and digital circuit design and superconductivity. His is an IEEE Fellow and currently serves as Editor-in-Chief of IEEE Transactions on Magnetics.
Recalling Adly, Professor Mayergoyz states: "Amr Adly was a great Ph.D. student, who was deeply immersed in his research work. Furthermore, he is a great person with very wide range of research interests. I was very fortunate to have him as my Ph.D. student."
EJUST was established in 2009 by a bilateral agreement between the Egyptian and Japanese governments. The two governments work together equally, with the Japan International Cooperation Agency (JICA) providing administrative and academic oversight of technical and managerial systems. In addition, the Japanese Supporting University Consortium (JSUC) provides support in teaching, joint research projects, and co-supervising graduate students, as well as providing machinery, equipment and tools. The Egyptian government provides the daily administration and financial support for the university. Decisions regarding university governance are made by the Board of Trustees, which is comprised of representatives from the government, academics, and industry from both countries. The primary goal of the university is to become a leading role model in science and technology research for universities and higher education in Egypt, the Middle East, and Africa.
Published September 27, 2022