ECE Career Fair a Success Despite Rescheduling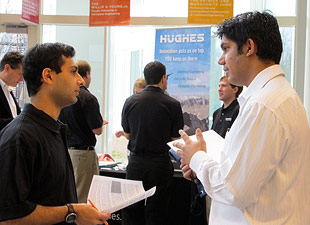 The
Electrical and Computer Engineering (ECE) Career Fair
, one of the department's largest events, attracted 34 employers and more than 300 students, despite having to reschedule because of poor weather on the originally scheduled date, Feb. 12.
In order to accommodate employers, the event was split into two dates. Each fair took place on the first floor on the Jeong H. Kim Engineering Building.
The smaller fair on Wednesday Feb. 24 from 1-4 p.m. welcomed representatives from Booz Allen Hamilton, Cobham Analytical Solution, Lockheed Martin and the MIT Lincoln Laboratory. The larger fair took place one week later on Wednesday, March 3 from 10 a.m. – 3 p.m. and included the following employers:
Accenture, Aerospace Corporation, Army Research Laboratory, BAE Systems, Brookhaven National Laboratory, the Central Intelligence Agency, comScore, DCS Corporation, ESRI, Force 3, General Dynamics Advanced Information Systems, Hughes Network Systems, Intelligent Automation, Johns Hopkins University Applied Physics Laboratory, Key Technologies, LGS Innovations, Microsoft, MicroStrategy, Motorola, the National Security Agency, Naval Research Laboratory, NIKA Technologies, Northrop Grumman, OpenLink Financial, Proteus Technologies, Raytheon, Solers, Stern Kessler Goldstein & Fox, Texas Instruments, Tyco Electronics and Verizon Wireless.
The participating employers offered opportunities for internships and co-ops, as well as full-time positions. This year, the department invited all ECE, Computer Science and Telecommunications undergraduate, graduate and post-doctoral students to attend. Jason's Deli catered lunch for the employers and the students.
The ECE Career Fair's sponsors were the Engineering Co-op & Career Services Office, the ECE Graduate Student Association, the ECE Undergraduate Student Council and Eta Kappa Nu.
Photos from the event can be seen at:
http://www.ece.umd.edu/News/images/10_03_Career_Fair/index.html
For more information, contact Ted Knight at teknight@umd.edu.
Published March 9, 2010