Alumnus Featured for Unique Nanotech Cancer Treatment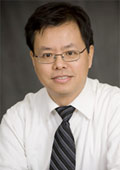 Alumnus
Jie Chen
(Ph.D., E.E., '98) was recently in the news for his use of nanotechnology to make cancer treatments more effective, with less damage to healthy tissue in the body.
In an article appearing in the Calgary Herald, Chen and his research team are featured for their use of nanoparticles to target and destroy cancer cells. Chen describes traditional radiation as akin to dropping a barrage of bombs in hopes that one will hit the target, while his nanotech method of attacking cancer cells is akin to a GPS-guided missile to target specific tumours.
Dr. Chen is an Associate Professor of the Electrical and Computer Engineering Department and Biomedical Engineering Department at the University of Alberta. He is also a research officer at the National Institute of Nanotechnology. He has published 85 peer-reviewed papers and holds seven patents. His research interest is in the area of nanoscale electronics and cross-disciplinary biomedical nanotechnology.
Dr. Chen was an advisee of Professor K. J. Ray Liu during his study at Maryland.
For more information about Dr. Chen's research, visit: http://binaryrg.ece.ualberta.ca/.
Published March 10, 2010