ECE Entrepreneurs Featured in IEEE Women in Engineering Magazine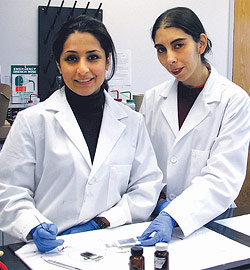 Electrical and Computer Engineering (ECE) Professor
Martin Peckerar
, ECE alumnus and Research Associate
Zeynep Dilli
, and Ph.D. student
Mahsa Dornajafi
were featured in an article in the June 2010 issue of
IEEE Women in Engineering Magazine
. The article highlights the group's efforts to commercialize their thin-film battery technology through their start-up business,
FlexEl
.
Also featured in the article were Professor Neil Goldsman, who worked with Prof. Peckerar to develop the battery technology, as well as ECE alumnus Yves Ngu.
The battery the group has developed is environmentally friendly, as flexible as duct tape, and offers a very high capacity. It can also outlive most devices it is used to power.
FlexEl's battery technology won the University of Maryland Invention of the Year competition in 2009 in the physical sciences category. FlexEl also won last year's University of Maryland $75K Business Plan Competition.
Peckerar and Goldsman advanced their company through the Maryland Technology Enterprise Institute (Mtech) VentureAccelerator, a highly selective program for the most promising technology startup companies from the University of Maryland. VentureAccelerator provides business expertise from experienced full-time staff with experience in entrepreneurship, venture capital and investment banking.
Published May 5, 2010