ECE Graduate Student Florez Wins Best Poster Award at MMM Conference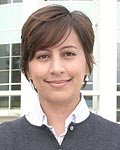 ECE graduate student
Sylvia Helena Florez
won the Best Poster Award at the 50th Annual Meeting on Magnetism and Magnetic Materials in San Jose, CA in Nov. 8-12, 2005.
Her poster entitled "Effects of artificial domain wall traps in pulsed current induced domain wall motion in a spin valve device," described how spin polarized current interacts with local atomic moments in a multilayer metallic nanostructure. Her results bring us closer to developing new types of random access memory for computers, cell phones, GPS and other microprocessor-controlled devices. Florez is advised by ECE Associate Professor Mel Gomez.
The Magnetism and Magnetic Materials Conference, sponsored by the American Physical Society and the IEEE, is the U.S. flagship conference on magnetism. For more information, visit: www.magnetism.org.
Published November 14, 2005