ECE-Mentored Girl Scouts Inspire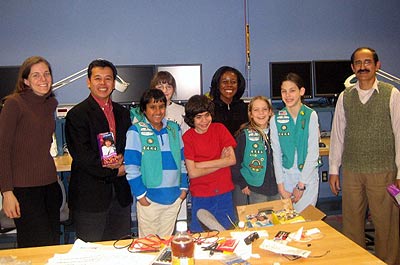 A girl scouts team mentored by ECE Professor Dr.
Mel Gomez
and ECE Laboratory Manager
Shyam Mehrotra
was awarded medals for creating one of the most inspirational games at the TOYchallenge™ 2006 national competition in San Diego on April 29. The team was one of hundreds from across the country that participated in TOYchallenge, a toy and game design competition that gives kids the chance to step out of their classrooms and develop their engineering and design skills by creating their dream toy.
Lara Barth, Lizzie Bubes, Hannah Guidry, Charlotte Harrison, Katie Kirlin, and May Rovner comprised the winning team of 10-12 year old girls from the Lab School of Washington and Holy Trinity. Their team leader is Michelle Sheahan.
The six girls, known collectively as "The Pink Puppy Dogs" team, wanted to create a game that would increase kids' knowledge of the problems that contribute to climate change, and encourage kids to make positive decisions that help them take better care of the earth. The board game, The Climate Change Challenge, is based on a map design, with parts that move and block the players' paths as six different animals journey around the world, trying to get to their natural habitats. Each of the events that blocks an animal is a real challenge posed to that animal by global warming. The team researched the issue of climate change and its impact on animals at the library, museums, the zoo, and over the internet. They also used these resources to create a set of question cards that challenges players to increase their knowledge about environmental issues, and prompts them to consider how their own actions impact the earth.
In addition to the interactive pieces on the game board, the team added LED lights and buzzers to the game design. They are activated when a player reaches its animal's habitat first, and make the game even more exciting and fun. The team was mentored in electrical engineering by Dr. Gomez, Shyam Mehrotra, and Booz Allen Hamilton engineer Zaminah Williams.
The six girls sold Girl Scout calendars and cookies to help raise the money for their trip to San Diego to participate in the Toy Challenge national competition. They presented their game to scientists, teachers, and other middle-schoolers, and demonstrated how to play the Climate Change Challenge as well as how they built the game and wired the circuits. The team recently screened the upcoming film about Al Gore's efforts to increase awareness of the global warming threat, and spoke with him about their game.
At the TOYchallenge competition, they were awarded medals for having one of the most inspirational games, and were personally congratulated by astronaut and physicist Dr. Sally Ride. The girls plan to show the game at schools, community groups, and science exhibitions this spring and summer.
Learn more about the TOYchallenge competition at www.TOYchallenge.com.
Published May 8, 2006