Eight Members of ECE Receive First Jimmy Lin Entrepreneurship Awards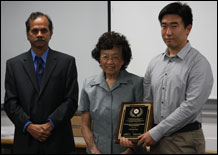 In 2008, Dr. Jimmy H. C. Lin, a beloved, longtime Professor in the Department of Electrical and Computer Engineering, endowed the Jimmy Lin Fund for Innovation and Invention within the ECE Department at the University of Maryland. The goal of his generous gift was to promote innovation among students, staff and faculty by stimulating, encouraging and rewarding the invention and patenting process.
After Dr. Lin passed away in 2009, Mrs. Anchen Lin, Jimmy's wife, decided to expand upon his original gift to endow a new fund in her husband's name. The purpose of the Jimmy Lin Endowment for Entrepreneurship is to provide annual awards to students, staff, and faculty who transform their ideas into innovations through invention and technology commercialization.
Interim Chair Dr. Rama Chellappa announced the new awards and scholarships at this first annual Jimmy Lin Entrepreneurship Awards ceremony, during ECE's Welcome Back celebration held in September.
The Jimmy H. C. Lin Award for Invention is awarded to Dr. K. J. Ray Liu, along with Wan-Yi Lin and Nathan Goergen, in recognition of their invention "Active Sensing for Dynamic Spectrum Access," which won the University of Maryland Invention of the Year Award last spring.
The Jimmy H. C. Lin Award for Entrepreneurship is awarded to Dr. Pamela Abshire, along with Marc Dandin and David Sander, in recognition of their business plan Ibis Microtech, a new entrepreneurial venture aiming to equip medical professionals, food quality control technicians, first responders, and national defense agencies with cost-effective diagnostics devices capable of performing laboratory-grade analyses on-site, and in record time.
The Jimmy H. C. Lin Graduate Scholarship was awarded to newly enrolled PhD students Xiangyang Liu and Faheng Zang, in recognition of their outstanding academic records from Shanghai Jiao Tong University, Jimmy Lin's alma mater.
Published September 29, 2011