Ephremides Chairs ISIT 2011 Conference in St. Petersburg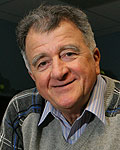 Cynthia Kim Eminent Professor of Information Technology Anthony Ephremides (ECE/ISR) served as the General Chair of the 2011 International Symposium on Information Theory (ISIT 2011) that took place in St. Petersburg, Russia, from July 31 to August 5, 2011.

ISIT is the premier conference of the prestigious IEEE Information Theory Society, and this year's event was attended by over 800 participants. It was the first ever major IEEE conference to take place in Russia. There have been significant contributions to Information Theory by Russian luminaries, such as Andrey Kolmogorov, Vladimir Kotelnikov, V. I. Siforov, R. R. Varshamov, A. M Yaglom, R. L. Dobrushin, Mark Pinsker, and many others. The decision to hold the meeting in Russia was a tribute to their contributions.

The conference location required hard work and four trips to St. Petersburg to iron out the details of the organization.

For more information about ISIT 2011, visit www.isit2011.org.
Published August 8, 2011