Fueling the Next Generation of Big Thinkers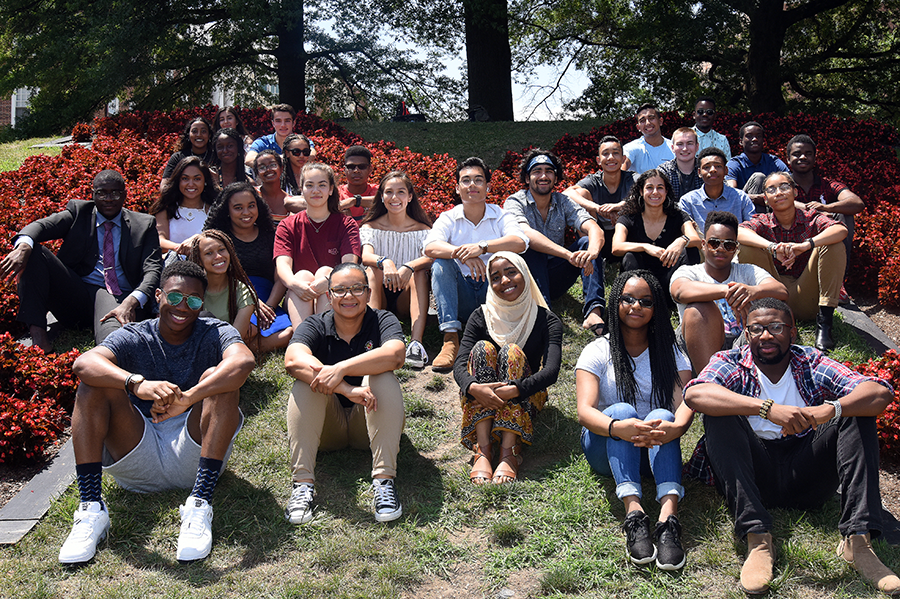 Liya Chanie remembers the initial dread she felt when walking into her chemistry class during her first semester at Maryland. The course, academically daunting by reputation, was all the more formidable because of its size: more than 150 students each semester. But looking out on the sea of faces that first day, Chanie spied a few that were familiar.
"It was just a relief, seeing people I knew across the room," says Chanie. "I felt at ease going into that class."
The handful of Chanie's classmates were friends made just weeks earlier through the Louis Stokes Alliances for Minority Participation (LSAMP) Bridge Program for Scientists and Engineers, a five-week summer experience run by the Center for Minorities in Science and Engineering (CMSE) that provides underrepresented students the community and tools they need to not just survive, but thrive in their first year at the Clark School. A mainstay of CMSE almost since the center's inception, the program was able to boost enrollment in 2019 because of a $100,000 commitment by the Northrop Grumman Foundation as part of the Engineering Diversity Initiative.
"The Bridge Program really helped that first semester," says Chanie, who made the Dean's List last spring. "The material wasn't completely foreign because I had gone over some of the concepts during the summer, and I always had someone to study with. If I hadn't done Bridge, it would have been a completely different experience."
The Engineering Diversity Initiative supports CMSE's mission to tip the scales for underrepresented (specifically African-American and Hispanic-American) students by ensuring their success, from the moment they step foot on campus until they're handed their diploma. In addition to the LSAMP Bridge Program, the initiative launched CMSE's Transfer Student Connections Program, which helps acclimate transfer students to the culture and academic rigor of the Clark School, and the Northrop Grumman Diversity Scholarship, a merit-based scholarship that provides financial assistance to students of color and boosts the center's recruiting power.
"Northrop Grumman's commitment has allowed us to take our efforts to a whole new level," says CMSE Director Rosemary Parker. "Because of this support, we've been able to grow the programs, increase our staffing, and expand services to students."
Northrop Grumman has a long-established history of supporting the Clark School; the company is one of the school's largest philanthropic partners and the number-one employer of Clark School graduates. A steadfast supporter of CMSE and other organizations for underrepresented students, the company is a legacy sponsor of the center's Winter Student Leadership Retreat and their pre-college programs. This new initiative closely aligns to the company's commitment to diversity and inclusion, a standard set nearly two decades ago and integral to developing great ideas, says Sandra Evers-Manly, vice president of global corporate responsibility at Northrop Grumman.
"It starts with having a diversity of thought," says Evers-Manly. "Different points of view create a richer conversation and help us get to solutions faster, sometimes by coming up with something completely different. Supporting organizations like CMSE ensures that we have that robust, diverse pipeline."
During the first year of the initiative, underrepresented minority student enrollment at the Clark School increased 3%, from 15% to 18% of confirmed engineering admissions. Twelve scholarships were awarded to first-year and transfer students.
The scholarship money, says Parker, does more than offset the burden of today's educational costs; it creates the space for students to focus on school and, in some cases, can be the lifeline that pushes a student across the graduation stage. For Ijeoma Asonye, a mechanical engineering major and 2019–20 scholarship winner, the money went straight to her tuition costs.
"It definitely helped take some of that worry away," she says.
"For some students, a scholarship can be the difference between whether or not they can go to college," says Parker. "It can be the difference between whether they can live on campus or commute from home. Sometimes, having that extra money can determine whether a student can purchase books for class."
For computer engineering student Excel Alale, transferring to Maryland felt like starting from scratch. The classes and culture were drastically different from Prince George's Community College. The support he received through CMSE and the Transfer Student Connections Program, he says, helped him navigate the nuances of a large university.
"Coming to UMD was a huge change," he says. "The support and community I gained from CMSE were key in helping me overcome the academic and social differences of a big school. It helped me to not be afraid to raise my hand in front of hundreds of people, or approach a professor, or go to office hours. It enlightened me to things I otherwise wouldn't have managed as well."
CMSE offered Alale, a commuter student, a refuge between classes where he could study, get a cup of coffee, and meet other transfer students. Special events, such as resume workshops and networking, helped him land a summer research opportunity at Morgan State University in 2020. When the Transfer Student Connections program expanded last fall through Northrop Grumman's funding, Alale became a program mentor, working with new transfer students through virtual events and meet-ups to talk about school work and internships and to provide connection during the pandemic. Asonye joined the LSAMP board last fall to help recruit new students and create new programming. Both of them say the ongoing support from the center has led them to a real community and is integral in their success at the Clark School.
"Now more than ever we need to continue to expand diversity in STEM," says Evers-Manly. "It's not only good for the company; it makes a difference for our nation. Tackling the challenges of our future will take great leaders from students coming from programs like CMSE."
The Path Forward: The Campaign for the Center for Minorities in Science & Engineering
The Path Forward aims to amplify the Center for Minorities in Science and Engineering's impact, create a sustainable future for the center, and enhance its support of thousands of students and alumni. Your gift can help us fund core programs for underrepresented minority K–12, undergraduate, and graduate students, build a base of annual support so we can meet students' ever-changing needs, and create an endowment to sustain our mission.
To learn how you can make a charitable donation today and make a significant difference in the future of CMSE, contact Tamika Hodnett, Assistant Director of Corporate and Foundation Relations.
EMAIL: thodnett@umd.edu
PHONE: 301.405.2150
Published February 24, 2021