Fulbright Fellow Konofaos and ECE Researchers to Study ZnO Nanostructured Films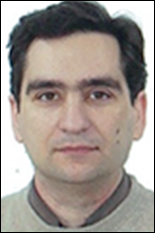 In December, Professor Nikos Konofaos joined Professor Agis Iliadis and his research group as a Fulbright Fellow. Professor Konofaos will be collaborating with Professor Iliadis to perform research focused on zinc-oxide nanostructured films and devices.
Konofaos is an Associate Professor of Physical Electronics and Microelectronics at Aristotle University of Thessaloniki (AUTh), Greece. He holds a Physics degree from the University of Ioannina, Greece and a Ph.D. in Electrical and Electronic Engineering from the University of Bradford, UK. His main research interests include micro- and nano-electronic circuits and devices and optoelectronics. He has published more than 50 papers in refereed journals and has contributed to around 100 international conference presentations. He is serving as a member of the technical committees of major IEEE conferences and as a referee for peer review journals. He is a Senior Member of the IEEE and a Fulbright Research Scholar.
From its inception, the Fulbright Program has fostered bilateral relationships in which other countries and governments work with the U.S. to set joint priorities and shape the program to meet shared needs. In September 1945, the freshman senator from Arkansas, J. William Fulbright, introduced a bill in the U.S. Congress that called for the use of proceeds from the sales of surplus war property to fund the "promotion of international good will through the exchange of students in the fields of education, culture and science." The Fulbright Program operates in more than 155 countries worldwide and has provided approximately 310,000 participants with the opportunity to study, teach, or conduct research in each others' countries and exchange ideas.
Published January 6, 2014