Gomez Wins E. Robert Kent Outstanding Teaching Award for Junior Faculty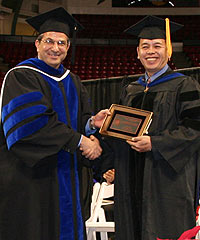 "Professor Gomez is a world-class scholar who has also made very strong contributions in teaching and educational activities."
ECE Associate Professor
Mel Gomez
was awarded the Clark School's 2005 E. Robert Kent Outstanding Teaching Award for Junior Faculty at the College's graduation ceremony on December 22, 2005. This award is given annually to a junior Clark School faculty member for excellence in teaching.
"Professor Gomez is a world-class scholar who has also made very strong contributions in teaching and educational activities," said ECE Chair Dr. Patrick O'Shea. "His accomplishments in teaching and education are particularly impressive, given how prolific he is in research."
Since he joined the ECE department in 1996 as an Assistant Professor, Gomez has consistently received excellent teaching evaluations from his students, who frequently cite his energy, enthusiasm, and dedication in describing him.
A recognized leader in magnetics and magnetic storage research, Gomez has also been credited for his innovations in educational and curriculum activities. Gomez introduced many new courses in his ten years with the Department, and has been instrumental in keeping the curriculum up-to-date and at the forefront of electrical engineering programs.
More from the Clark School on Dr. Mel Gomez Winning the Kent Outstanding Teaching Award:
http://www.eng.umd.edu/facstaff/facstaff_kent-award.html
To learn more about the Kent Outstanding Teaching Award, visit: http://www.eng.umd.edu/facstaff/facstaff_kent-award.html
Published December 22, 2005