Liu Gives Distinguished Lecture in Hong Kong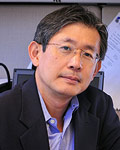 Professor
K. J. Ray Liu
gave an invited talk at The Chinese University of Hong Kong on September 22 as part of the Shun Hing Distinguished Lecture Series. His talk was titled "
Reverse Engineering of Electronic Devices: An Information Forensic Paradigm
."
Information forensics is an emerging new interdisciplinary field concerning framework, algorithms, and methodology for traitor tracing, content protection, tampering detection, component analysis for intellectual rights protection/infringement, and behavior modeling and analysis for multimedia social networks.
In his talk, Prof. Liu presented state-of-the-art advances to identify components inside an electronic device solely from its output by inferring what algorithms/processing are employed and estimating their parameter settings. He also discussed a new methodology for forensic analysis of digital camera images based on the observation that color interpolation leaves distinct intrinsic traces on digital images, and these intrinsic fingerprints can then be identified and employed to verify the authenticity of digital data. Using a detailed imaging model and applying component analysis techniques, researchers can determine which interpolation algorithm is being used, estimate the parameter settings, and thus determine the brand and model of the camera that take this picture.
More information about Prof. Liu's talk is available here: http://www.shiae.cuhk.edu.hk/activity.htm.
Published September 25, 2010