Liu Named Distinguished Chair Professor by National Taiwan University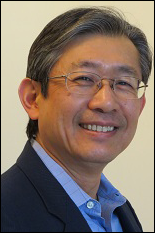 Dr. K.J. Ray Liu, Christine Yurie Kim Eminent Professor of Information Technology in the Department of Electrical and Computer Engineering, has been named Distinguished Chair Professor (honorary) by his alma mater, National Taiwan University, where he received a B.S. in 1983, for his accomplishments in research, education, and leadership.
Liu was a recipient of IEEE Signal Processing Society 2014 Society Award, IEEE Signal Processing Society 2009 Technical Achievement Award, and best paper awards from various IEEE societies and EURASIP. Recognized by Thomson Reuters as an ISI Highly Cited Researcher, he is a Fellow of IEEE and AAAS.
He also received teaching and research recognitions from University of Maryland including university-level Invention of the Year Award (three times); and college-level Poole and Kent Senior Faculty Teaching Award, Outstanding Faculty Research Award, and Outstanding Faculty Service Award, all from A. James Clark School of Engineering. He has advised more than 60 Ph.D. and postdoctoral students throughtout his career.
Liu is a Director-Elect of IEEE Board of Director and a member of IEEE Fellow Committee. He was President of IEEE Signal Processing Society (2012-13) where he has served as Vice President – Publications and Board of Governor. He was the Editor-in-Chief of IEEE Signal Processing Magazine.
Learn more about Dr. K.J. Ray Liu: http://ter.ps/87h
Published February 6, 2015