Munday Wins IEEE Photonics Society Young Investigator Award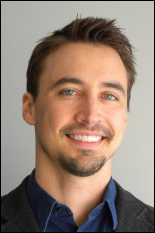 Jeremy N. Munday, Assistant Professor in the A. James Clark School of Engineering's Department of Electrical and Computer Engineering, has received the IEEE Photonics Society Young Investigator Award for his "pioneering contributions to plasmonic and photonic light-trapping in solar cells."
The Young Investigator Award was established "to honor an individual who has made outstanding technical contributions to photonics… prior to his or her 35th birthday."
Munday's work involves plasmonic and photonic light-trapping in solar cells to improve their efficiency, as solar cells need light to turn into electricity. "Our goal is to make these devices as thin as possible," said Munday. "Thin devices can have [a] better electrical response and need less material to make." However, difficulties arise when the device becomes too thin to capture enough light. Plasmonics, or "optics involving small metallic structures," trap the light until it is absorbed, said Munday.
Along with his role in electrical and computer engineering, Munday holds affiliate appointments in the Institute for Research in Electronics and Applied Physics (IREAP), as well as the Chemical Physics Graduate Program. Munday received the NASA Early Career Faculty Space Technology Research Award in 2012 and the International Society for Optics and Photonics (SPIE) Early Career Achievement Award in 2014.
The IEEE Photonics Society Young Investigator Award will be presented to Munday this May at the CLEO Conference in San Jose, Calif.
Learn more about Munday's research: http://mundaylab.umd.edu
Published February 4, 2015