McKinney, Srivastava, Tjoa Honored at ECE Welcome Back Reception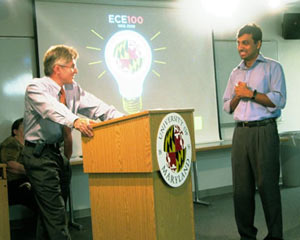 See photos from the event
ECE faculty, staff, and students were honored at the Department's Welcome Back Reception on Wednesday, September 19, 2007. ECE Chair Dr. Patrick O'Shea was on hand to present awards.
Assistant Professor Ankur Srivastava received the George Corcoran Memorial Award for faculty, presented annually to a young faculty member who has shown exemplary contributions to teaching and educational leadership.
Director of Computing Facilities Jeff McKinney received the 2006-2007 ECE Staff Award in recognition for his service to the Department.
O'Shea also honored staff members Kristin Little and Bryan Quinn for five years of service; Jeanette Tarter and Claudia Hussey for 20 years of service; and Shyam Mehrotra for 25 years of service.
The ECE Graduate Student Service Award was given to last year's ECE Graduate Student Association (ECEGSA) President Song Li and Brooke Shrader, a member and co-founder of the Engineering Graduate Student Council (EGSC) and a member of the student committee for the IEEE Information Theory Society.
The George Corcoran Memorial Award for a graduate student, presented each year to a graduate teaching assistant in recognition of excellence in teaching, was awarded to Steven Tjoa, the current president of the ECEGSA.
Published September 20, 2007