New Edition of Book on DSP Released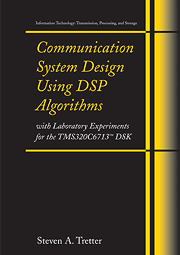 A new edition has been released of "
Communication System Design Using DSP Algorithms
," authored by ECE Professor
Steve Tretter
, who is also an alumnus of electrical engineering at Maryland.
The book, which was designed for senior electrical engineering students, primarily focuses on communication systems, exploring the theoretical concepts of digital signal processing (DSP) by presenting laboratory experiments using real-time DSP hardware.
The book serves as a resource and a record of the work conducted in the ENEE 428 course, titled "Communications Design Laboratory."
Published February 21, 2008