New website showcases work of Clark School's microelectronics researchers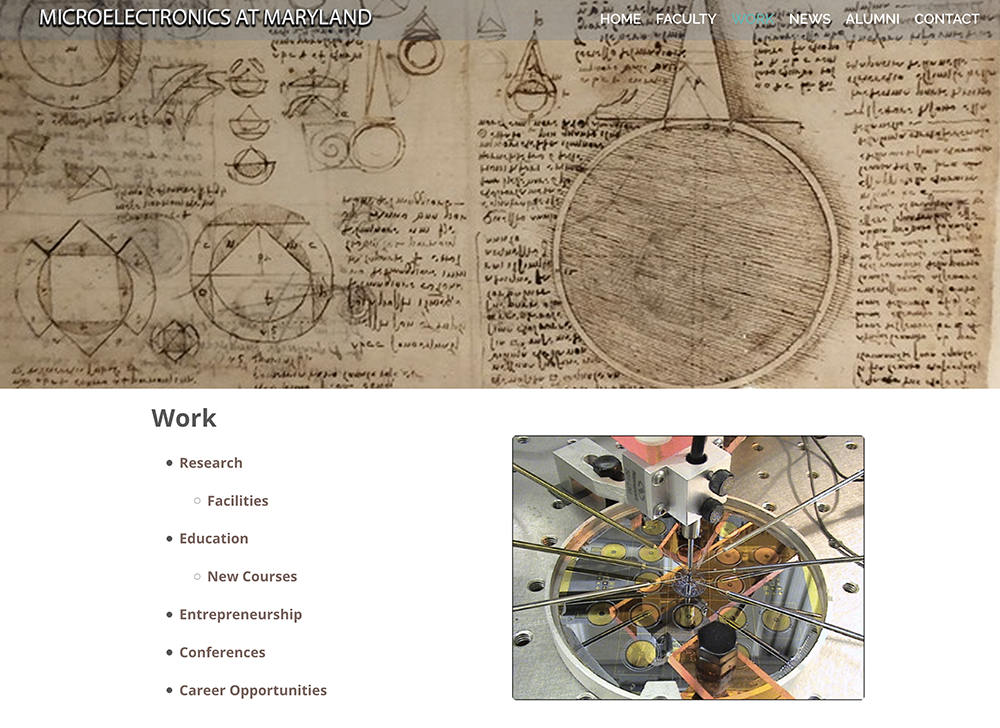 A group of Clark School faculty specializing in microelectronics research has created a new website to highlight their work and capabilities, and encourage engineering students to consider this field of study.
The "Microelectronics at Maryland" website offers a first-hand look into Maryland's role in this advancing field. It conveys the group's capacities and is an outreach effort to disseminate scientific information and inspire students and potential partners interested in getting involved in the re-emerging revolution of microelectronics in the U.S.
The importance of microelectronics
Microelectronics miniaturizes and implements the electronics that enable modern technologies. A microcosm of all aspects of electrical engineering, microelectronics also incorporates concepts from and solutions for other engineering disciplines.
Creativity in microelectronics drives new discoveries that power applications in microchips, labs on chips and microsystems. Microelectronics are ubiquitous—they are in everything from vehicles to cell phones to gaming stations to appliances incorporate semiconductor chips. Importantly, advances in this area create valuable systems that can address the world's grand challenges. For example, microelectronics provides solutions for combatting climate change, improving health care, creating smarter cities, building the Internet of Things, solving transportation issues and furthering the exploration of space.
Microelectronics manufacturing and supply chains are vital to the U.S. economy and competitiveness, and have been prominent in recent business and legislative news.
Intel recently announced a plan to build two new chip manufacturing factories in Arizona with a budget of $20 billion, to set "a course for a new era of innovation and product leadership," according to CEO Pat Gelsinger. IBM has released the world's smallest node chip at just 2 nanometers (nm). This significantly smaller chip will increase performance in microelectronic systems by using 75% less energy than traditional 7 nm chips.
Currently a shortage of chips is adversely affecting manufacturers in many major industries. As the semiconductor industry has become more consolidated, more than 50 percent of chip manufacturing has moved to Taiwan (TSMC) and South Korea (Samsung). Even though Intel and Micron Technology still manufacture chips in the U.S., the country needs to rebuild its capacity in this complex area.
The Biden administration and lawmakers on both sides of the aisle are aware of this strategic need. Funding for microelectronics is part of the large infrastructure bill working its way through Congress; several stand-alone bills have been introduced in the House and Senate as well. For example, a recent $52 billion Senate proposal includes $15 billion for states to build, expand or modernize semiconductor manufacturing and R&D facilities; $5 billion towards public-private projects to build or modernize fabrication facilities that produce "measurably secure and specialized microelectronics"; and $5 billion to federal agencies for R&D.
About Microelectronics at Maryland
The Microelectronics at Maryland team is helping to build the future of the microelectronics field. The Clark School's "Microelectronics at Maryland" research group has expertise, access, and a history of collaboration that has enabled distinctive innovations in this area. The diverse group of faculty members specializes in biosensors, microsystems, MEMS devices, power electronics, modeling, data analysis, and more. Their research addresses the many ways microelectronics can be applied to address global grand challenges. They also are uniquely positioned in the D.C. metro area with access to the University of Maryland NanoCenter's own high-end fabrication facilities.
The website includes information on the large number of successful alumni coming out of this research group. Graduated students have been placed in industry, national laboratories, and academic institutions across the world, including Tesla, the NASA Goddard Space Flight Center, the Georgia Institute of Technology and Arizona State University. Several students have founded their own companies (CoolCAD Electronics LLC and Proxicare Health).
Microelectronics are key to the strategic future of the U.S. and the grand challenges faced by the world. This field offers many possibilities for students to work in academia, industry and federal government labs, especially given the strong likelihood of increased federal funding in the near future.
"Many creative and innovative ideas that resulted in well-regarded microelectronics products in the market worldwide were initially invented and developed in America," says Professor Reza Ghodssi (ECE/ISR), a Microsystems at Maryland group member. "Microelectronics is now at the onset of yet another exciting emergence in the U.S., providing exciting educational and employment opportunities for our students and researchers. It is exhilarating to imagine the potential impact of new emerging microelectronics ideas and products that could ultimately address our times' grand challenges and causes."
Visit the Microelectronics at Maryland website to learn more.
Published July 9, 2021