Nikolas Francis on the Neurophysiology of Listening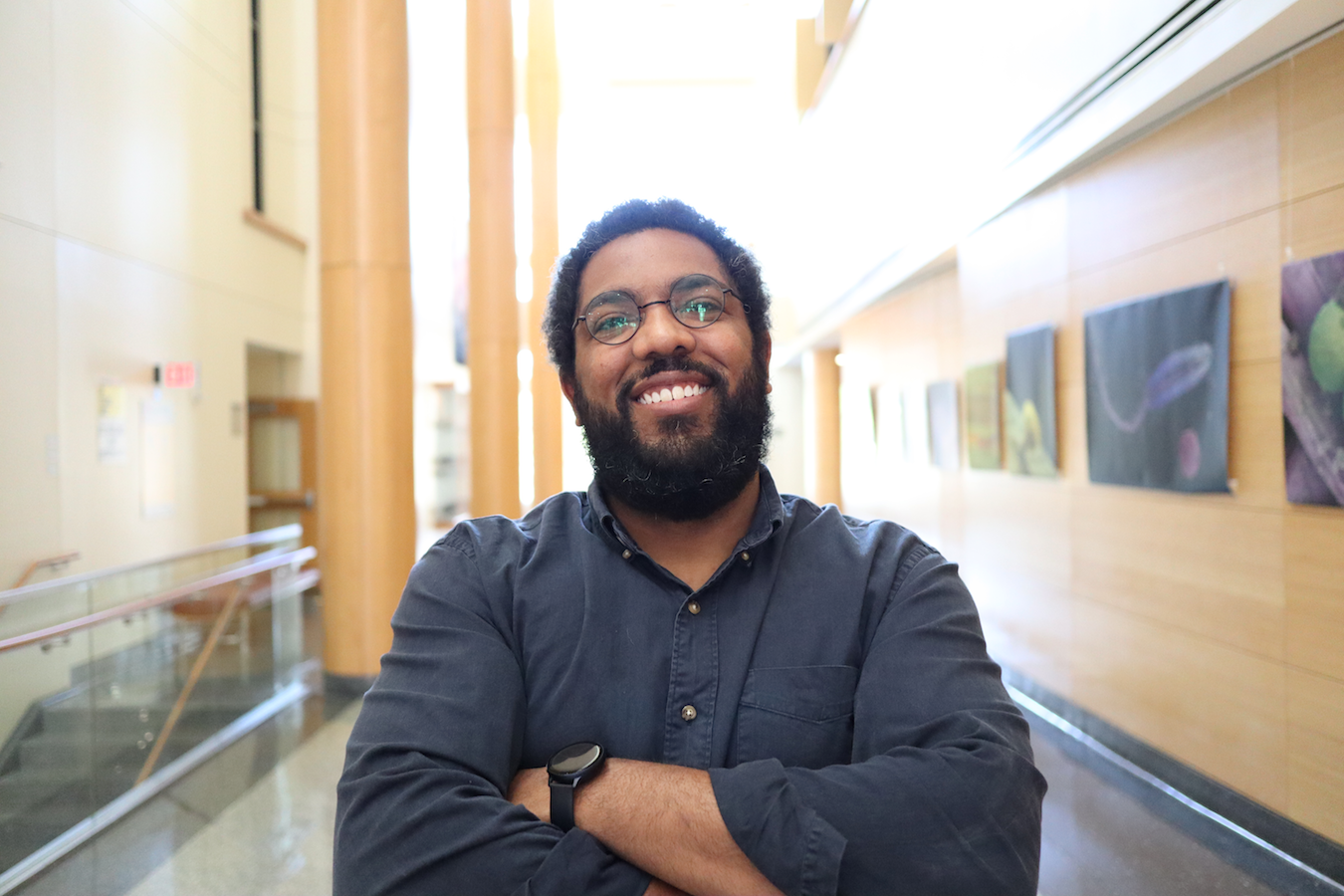 "How does the brain engage with sound—not just sense sound but actively engage with it—in a way that extracts information?"
So asks Nikolas Francis, who will begin his role as assistant professor in the Brain and Behavior Institute (BBI) with a joint appointment in biology in fall 2021. Francis has been at UMD since 2011, moving up from postdoctoral fellow to his current role as senior faculty specialist in biology.
Francis' research centers on how the brain encodes the way we make decisions—for example, how neuronal networks encode the choice to actively engage with a sound. As Francis describes it, the difference between "engaging with" and "sensing" sound is best defined as the difference between listening and hearing. Listening is active, and the neural mechanisms that one uses to focus attention and extract information during an auditory task, such as a conversation, are different from how the brain responds when one passively hears a sound.
Francis' work examines this distinction between listening and hearing to understand the brain's endogenous activity—that is, patterns in the seemingly random neural activity that originates within the brain itself.
"We all know from experience that a huge part of living with a brain is simply what's going on internally," Francis explains. "Speaking as a neurophysiologist, we still don't really know what neurons are doing in those moments, when they're acting as internal, or latent, variables."
It is in the brain's internally driven mechanisms that Francis locates the neural basis of listening. Imagine a simple exercise in which you are asked to press a button each time you hear a sound. From a neuroscience perspective, the different components of this exercise correspond to neural activity in distinct parts of the brain (in this case, the auditory cortex). A certain network of neurons will be active when you hear the sound, while another neuronal network—perhaps overlapping, perhaps not—will encode the decision to push the button itself. At the same time, additional neurons that have no known relation either to hearing the sound or to pressing the button will also fire.
These are the neurons that motivate Francis' research. Although their activity looks like mere leftover data, these leftovers may actually be a feast. In the functional networks formed by these neurons, Francis expects to find the encoding of a subject's recent memory of sound, or an "auditory short-term memory."
Still, some leftovers are meatier than others. Francis' use of big data requires a careful hand to separate out the important information. For example, a recent study continuously recorded the behavior of mice—24 hours per day, seven days per week—for multiple weeks. This experiment yielded a lot of data and cried out for collaboration. "In order to sparsify data efficiently, you need to work with experts outside your field, like in computer science," Francis notes.
"Nik's work expands our existing strengths in sensory neuroscience by combining large functional imaging and behavioral analyses with state-of-the-art analytical and computational methods," said Elizabeth Quinlan, a professor of biology and director of the Brain and Behavior Institute. "His research program highlights the power of a multi-disciplinary approach and embodies the mission of the BBI. I am thrilled that Nik is joining the faculty of the BBI and the Department of Biology."
Being part of the BBI will help Francis develop new tools and approaches to push neuroscience research past a modular perspective toward an interactive one. The collaborations offered by BBI provide an opportunity to look beyond small populations of localized neurons toward an examination of functional interactions between many individual neurons across large brain distances.
"Currently we analyze, say, 20 neurons, and within these 20, four are of interest. But what if we study 1,000 neurons—or a million? How do the neuron interactions that we are able to see depend on the scale at which we are observing in the brain?" Francis asks. "The tools for whole-brain cellular research are here. Between advancements in physics to image the neurons, engineering to process the signals, and computer science to efficiently analyze the data, it's just a matter of getting everyone together."
Francis's integrative approach to research is reflected in his educational journey to College Park. He earned his B.A. in speech and hearing sciences along with psychology from the University of Iowa in 2003, where he used metabolic imaging to study the neural correlates of memory in rats. Then, Francis received an intramural research training award at the National Institutes of Health (NIH) to learn functional magnetic resonance imaging for human subjects. Next, Francis moved on to graduate school and received his Ph.D. in speech and hearing biosciences and technology with a concentration in signals and systems from MIT/Harvard Medical School in 2011. There, he worked with John Guinan, Jr. to study how listening affects human cochlear responses to sound using so-called optoacoustic emissions.
When Francis joined UMD in 2011, he worked with Shihab Shamma to use electrophysiology to study the neural basis of auditory attention in ferrets. In 2015, Francis continued his studies on the neural basis of listening in the lab of Patrick Kanold, where he employed two-photon microscopy to image behaving mice.
In his new tenure-track appointment, Francis will use two-photon microscopy, wide-field imaging and electrophysiology—all integrated with a behavior apparatus for mice. He hopes to share his diverse skills, methods and expertise to collaborate within and beyond UMD's strong sensory neuroscience programs.
"Nik's appointment builds on the Department of Biology's long-standing strength in sensory neuroscience generally and auditory neuroscience specifically," said Joshua Singer, a professor and interim chair of biology. "We are particularly enthusiastic about how the new perspectives and techniques that Nik brings to our neuroscience program will provide opportunities for our undergraduate and graduate students. And in addition to his contributions to the new Brain and Behavior Institute, Nik's appointment allows our department to continue its contribution to the long-standing NIH training grant in the biology of hearing."
Francis is already looking into a possible collaboration that would allow him to translate his research for populations with age-related hearing damage. The combination of neurophysiology and high-throughput behavioral analysis in his work may be applied as a non-invasive behavioral therapy that would minimize the necessity of an invasive cochlear implant. Although the amount of input from the cochlea to the brain cannot be adjusted, someone with hearing damage could be taught to listen to that input differently.
"If we know what kinds of training lead to the largest changes in the brain, then that information can be used to optimize the kinds of therapies that we would give adults to train them to hear," Francis says. "It's a loose connection right now, but the possibilities are exciting. We are just at the beginning."
###
Media Relations Contact: Nathaniel Underland, underlan@umd.edu
About the Brain and Behavior Institute (BBI): The mission of the BBI is to maximize existing strengths in neuroscience research, education, and training at the University of Maryland and to elevate campus neuroscience through innovative, multidisciplinary approaches that expand our research portfolio, develop novel tools and approaches, and advance the translation of basic science. A centralized community of neuroscientists, engineers, computer scientists, mathematicians, physical scientists, cognitive scientists, and humanities scholars, the BBI looks to solve some of the most pressing problems related to nervous system function and disease.
Published April 12, 2021