OtoPhoto Leverages Machine Learning for Safer Ear Exams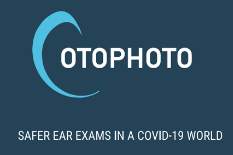 OtoPhoto – a smart otoscope that quickly and accurately aids diagnosis of ear infections – is one of the eight winners of the COVID-19 edition of "Make Your Medical Device For Kids!" competition.
This annual competition is held by the National Capital Consortium for Pediatric Device Innovation (NCC-PDI), a U.S. Food and Drug Administration (FDA)-funded collaboration between Children's National Hospital and the University of Maryland's Robert E. Fischell Institute for Biomedical Devices. On July 20, the event was presented in a virtual format by NCC-PDI co-founders Sheikh Zayed Institute for Pediatric Surgical Innovation at Children's National Hospital and the A. James Clark School of Engineering at the University of Maryland, and powered by nonprofit accelerator and NCC-PDI member, MedTech Innovator.
The medical innovation, dubbed a vehicle for "safer ear exams in a COVID-19 world" leverages machine learning technology, and is intended for home telehealth use. Robert E. Fischell Institute for Biomedical Devices engineer and an associate research engineer with the Department of Electrical and Computer Engineering John Rzasa (ECE '05, M.S. '07, Ph.D. '13) is part of the OtoPhoto development team, which originated from the Johns Hopkins Hospital in Baltimore, MD. The team was awarded $20,000 to aid their device development.
"We're extremely happy to have won the "Make Your Medical Device for Kids!" competition and believe OtoPhoto will be a critical tool for better assessing and treating ear infections in children, both at home and in the doctor's office," says Rzasa. "The OtoPhoto concept was originally developed by Drs. Therese Canares and James Clark at Johns Hopkins University School of Medicine (JHU-SOM) as a tool to more accurately diagnose ear infections in children and reduce antibiotic overuse, something always of major concern to parents and doctors. In the next year, we hope to begin clinical trials and work on bringing OtoPhoto to market."
Rzasa is an electrical engineer who specializes in laser and electro-optical system design and fabrication, as well as mixed signal circuit design, custom data acquisition systems, and graphical user interfaces to control and gather data. Among his many inventions are an electronic home plate capable of detecting balls and strikes, and a novel measurement system for simultaneously characterizing the electrical and optical properties of chemical and biological materials.
Published August 11, 2020