Satinder Pal Singh Named New President of ECEGSA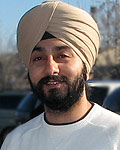 ECE Ph.D. student
Satinder Pal Singh
was named the new President of the Electrical and Computer Engineering Graduate Student Association (ECEGSA). He succeeds
Eduardo Arvelo
as President, and will serve in his new leadership role with the ECEGSA from July 2009 through June 2010.
Satinder Pal Singh was born and raised in India. He completed his undergraduate studies at Birla Institute of Technology and Science in Pilani, India and subsequently worked as a Research Associate at Hewlett Packard Labs, Bangalore. He joined University of Maryland as a doctoral student in Fall 2006 under the guidance of Professor Mark Shayman. His current research focus is IPGeolocation, which involves estimating the geographical location of an IP address in a Metropolitan Area. He served on the ECEGSA board last year as a member of the Social Affairs Committee and served as the Vice-President for Social Affairs in Spring 2009. He has also represented the ECE Department in the Graduate Student Government for the past two years. In his free time, he enjoys reading science magazines and exploring photography.
"I have no doubt that Satinder is the most qualified student to lead the ECEGSA and I am confident that he will do an excellent job as President," said Arvelo.
The ECEGSA is a graduate student organization aimed at improving the quality of education and life for graduate students and developing a sense of community through social, academic and professional activities. The ECEGSA sponsors a weekly seminar and coffee hour as well as social outings and career fairs. The ECEGSA has received the University of Maryland's Golden Geese Award, a prize given annually to recognize a graduate student group that does the most to assist fellow students in their adjustment, matriculation, and retention in graduate school. The ECEGSA received the award based on the number and quality of programs provided, the group's focus on supporting fellow graduate students, and the ECEGSA's efforts to foster student community.
For more information, visit http://www.ece.umd.edu/ecegsa/.
Published July 7, 2009