Wei, Koev and McKinney Honored at ISR Awards Ceremony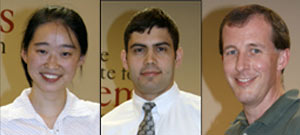 Institute for Systems Research (
ISR
) Director Eyad Abed presented awards to two
ECE
/
ISR
students, and one ECE/ISR staff member on May 28 at the Institute's annual awards ceremony.
George Harhalakis Outstanding Systems Engineering Graduate Student Award
Stephan Koev was the recipient of this year's George Harhalakis Outstanding Systems Engineering Graduate Student Award. He was nominated by his faculty advisor, Prof. Reza Ghodssi.
Stephan is a key researcher in the chitosan-based nanoscale sensor system developed by Ghodssi and his graduate students in the MEMS Sensors and Actuators Lab. The sensor can detect minute quantities of explosives, bioagents, chemicals, and other dangerous materials in air and water, potentially leading to security and safety innovations for airports, hospitals, and other public locations. His M.S. thesis "Microcantilever Biosensors with Chitosan for the Detection of Nucleic Acids and Dopamine" clearly demonstrated the unique properties of chitosan integrated with MEMS devices. This work is the subject of his 2008 paper in the prestigious Lab on Chip journal.
Stephan's Ph.D. work focuses on the development of "biosystems on a chip" for drug discovery. This is one of the MSAL's core research programs, sponsored by the National Science Foundation (NSF), R. W. Deutsch Foundation and the Laboratory for Physical Sciences (LPS). It is truly an interdisciplinary project that involves design, modeling, materials characterization and process development as well as extensive device characterization and testing, and involves collaboration with Gary Rubloff, Bill Bentley and Greg Payne. Stephan's Ph.D. thesis will be truly an integrative system approach that investigates and addresses the design and fabrication limitations between organic and inorganic materials.
He won the 2007 American Vacuum Society's (AVS) Graduate Research Award, a prestigious prize that draws nationwide competition each year, and he was one of the four recipients of the ECE Distinguished Dissertation Fellowship this year. The fellowship recognizes the outstanding work a graduate student has done towards his/her dissertation. Stephan's award recognized his research entitled "Design, Fabrication and Testing of a Microsystem for Monitoring Bacterial Quorum Sensing."
Outstanding Systems Engineering Undergraduate Student Award
Ermin Wei was the recipient of this year's Outstanding Systems Engineering Undergraduate Student Award. She was nominated by Prof. P.S. Krishnaprasad.
Ermin maintained a 3.97 GPA while participating in the University Honors program, ECE Honors program and Business Honors program. She has worked as a Research Assistant in the Intelligent Servosystems Lab and interned at Microsoft. She plans to attend MIT to pursue a Ph.D.
Ermin began working in the Intelligent Servosystems Lab in her freshman year. She worked full time in the lab last summer as part of the highly competitive summer scholar program, and continued her research work on a part-time basis this past academic year. She is also doing experiments in Cindy Moss's Auditory Neuroethology Laboratory and was recognized for conducting research at the level of a high quality graduate student.
Her research includes work on characterizing ultrasonic microphones, and motion control of mobile robots. Ermin was involved in integrating a robotic bat head onto a mobile robot, which involved both hardware integration and software development. Her current project includes a motion model, a bat vocalization model, and a signal processing model. She has completed a good portion of this model and her work is expected to be useful in the further design and development of robotic hardware modeled on the bat. The project is substantial and has already yielded results that are being prepared for publication in a scholarly journal.
Ermin was the student speaker at the Clark School of Engineering's 2008 commencement ceremony. She earned three degrees, in Computer Engineering, Mathematics, and Finance.
Ermin also recently received the International Engineering Consortium's (IEC) 2007 William L. Everitt Student Award of Excellence. The award honors outstanding seniors in electrical and computer engineering at affiliate universities across the country who are in the top 10 percent of their class and have an interest in communications. In addition, she received the ECE Department's Chair's Award for outstanding academic performance as a senior.
Outstanding Staff Award
Jeff McKinney was the recipient of this year's ISR Outstanding Staff Award. Jeff was nominated for this award by Sue Frazier.
Jeff was recognized for his skilled, effective management and his friendly, collegial demeanor. He has led the effort to take advantage of the synergies between ISR and ECE, which has made both computing groups one efficient unit.
His broad knowledge of computer systems has really brought cohesion to both the systems and the staff. He takes great care in listening to faculty and other users to understand the computing issues/problems and is able to work with his staff to resolve issues for the good of both departments. He understands the value of being patient and keeping lines of communication open.
Jeff does a great job anticipating the needs of the computer users. He is very accessible and responsive to students, faculty, and staff. He maintains an "open door" policy and one can also always reach him via email. He has ensured that the help desk is covered and technical issues can be resolved 24/7. He works well with everyone with whom he interacts.
Recently, the Department of Physics turned to him to help get them reorganized with better computer support and at a reduced cost. His ability to accomplish these tasks reflects on the good reputation of ISR. He is a member of ISR's senior staff. In the award citation, Jeff was recognized for his positive attitude and genuine commitment to his position and to ISR.
Published May 28, 2008