Weifeng Su Earns Tenure at the University at Buffalo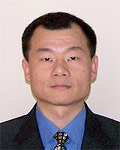 Dr. Weifeng Su, a former ECE postdoctoral research associate in Prof. K. J. Ray Liu's research group, has been promoted to the position of Associate Professor with tenure in Electrical Engineering at the State University of New York (SUNY) at Buffalo.

Dr. Weifeng Su received a Ph.D. in Electrical Engineering from the Department of Electrical and Computer Engineering at the University of Delaware, Newark, DE, USA, in 2002. He received B.S. and Ph.D. degrees in applied mathematics from Nankai University, Tianjin, P. R. China, in 1994 and 1999, respectively.

Weifeng Su served as a postdoc at the University of Maryland from 2002-2005 before joining SUNY-Buffalo as a faculty member. Dr. Su and Dr. Liu co-authored a book together, titled "Cooperative Communications and Networking."

Dr. Su is the recipient of the 2010 IEEE International Conference on Communications (ICC) Best Paper Award. He also received a Fellowship Award from U.S. National Research Council (NRC) in 2010.

His research interests include: MIMO-OFDM systems in broadband wireless communications, cooperative communications in mobile ad hoc networks (MANETs), coss-layer design and optimization for wireless networks, and ultra-wideband (UWB) wireless communications.
Published May 15, 2011