Graduate Student Mao and Alumnus Karakos Invited to IBM Symposium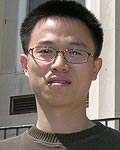 ECE graduate student
Yinian Mao
and Ph.D. alumnus
Damianos Karakos
were among a select group invited to the
2005 IBM Symposium on User Interface and Signal Processing Technologies
at IBM's T.J. Watson Research Center in Yorktown Heights, NY, on September 19.
This annual symposium, hosted by IBM Research, consists of presentations of state-of-the-art IBM technologies as well as original university research by promising Ph.D. students and postdoctoral researchers. The goal of the symposium is to give high-quality Ph.D. students and postdocs the opportunity to learn about IBM Research, meet with IBM researchers, and present their own scholarly research.
This year, the nomination process was highly competitive and only eight students and postdocs were selected out of several dozens of nominations. Yinian Mao was invited to present his recent work on security-aware sensor deployment, and Damianos Karakos presented his work on the maximum likelihood set approach to language modeling. Mao is advised by Assistant Professor Min Wu (ECE/UMIACS) and Karakos, who earned his Ph.D. in 2003, was advised by Professor Adrian Papamarcou (ECE/ISR).
For more information, visit:http://research.ihost.com/sp_mini/.
Published October 12, 2005