Alumna Rose Faghih Adapts Smartwatches to Deliver Information About Brain States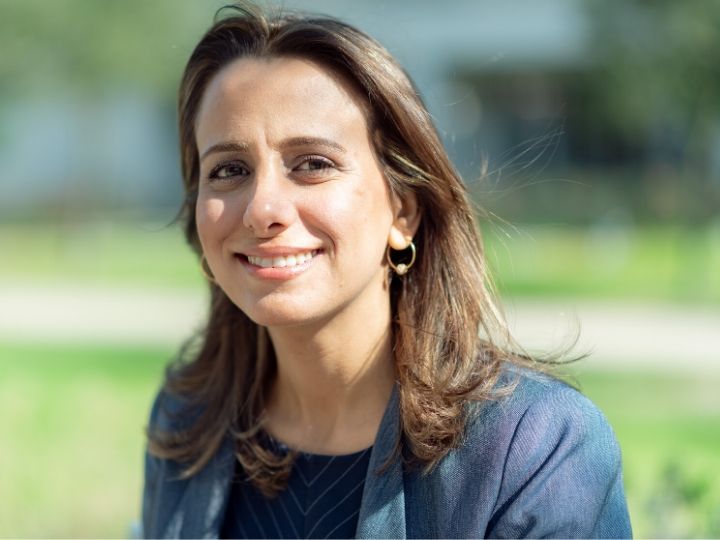 Alumna Rose Faghih ('08, electrical engineering) has received an NSF CAREER Award for launching a closed-loop brain-aware wearable architecture called MINDWATCH, an acronym for "Multimodal Intelligent Noninvasive brain state Decoder for Wearable AdapTive Closed-loop arcHitectures." The five-year award, worth $525,000, was granted to Faghih to develop algorithms to enhance smartwatches to deliver information about emotional and cognitive states.
Smartwatch-like wearables have enabled seamless tracking of vital signs and physical activities, but are unable to provide any information about brain states or to modulate brain function for optimizing human health and performance. MINDWATCH aims to make it possible for wearables to feature such capabilities. Being aware of brain states is not only extremely valuable in clinical studies, but is also crucial to improving human performance in various everyday life activities, especially with the current large-scale shift across the globe to online learning environments.
Faghih's signal processing and control algorithms, or groundwork, for a wearable device delivers information on three types of brain states – stress, cognitive engagement and cognitive learning, based on multiple signals from the wearer including sweat response, respiration, cardiac function and temperature.
According to Faghih, the project is a "navigation system of the brain," and overcomes the hurdles to achieving brain-aware wearables, without needing neural recordings from electroencephalogram (EEG) testing and monitoring, in which electrodes are attached to the scalp or a cap to measure brain activity.
There are many potential applications for the closed loop technology. The project will transform healthcare delivery, for example aging, autism, and dementia, as well as human performance and productivity enhancement, such as online learning or smart workplaces, as many around the globe adjust to working from home.
Faghih joined the Department of Electrical and Computer Engineering at the University of Houston in 2017 after completing her postdoctoral training at the Department of Brain and Cognitive Sciences and Picower Institute for Learning and Memory at the Massachusetts Institute of Technology (MIT). She received her M.S. and Ph.D. degrees in Electrical Engineering from MIT and graduated summa cum laude and first in her class from the University of Maryland with a bachelor of science in Electrical Engineering (Honors Program Citation). Her other recent recognitions include the 2019 National Academy of Engineering's U.S. Frontiers of Engineering Symposium and the 2016 IEEE-USA New Face of Engineering, an award for engineers 30 and younger.
Published April 16, 2020