Alumnus Aswin Sankaranarayanan Wins Excellence in Teaching Award at Carnegie Mellon University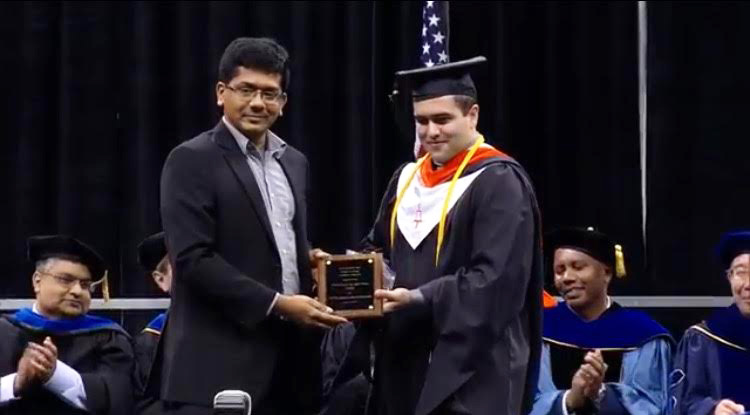 ECE Alumnus Aswin Sankaranarayanan (M.S. '07, Ph.D. '09) was recently awarded the Eta Kappa Nu Excellence in Teaching Award at Carnegie Mellon University's spring ECE Diploma Ceremony. The annual award is given to a faculty member who has a clear dedication to undergraduate education and has made a significant impact on his/her students. Prof. Sankaranarayanan is highly-praised by his students for his organized and well-developed lectures, his theoretical and intuitive explanations, and for his ability to produce and introduce research that inspires passion in the subject he teaches.
Prof. Sankaranarayanan joined the Carnegie Mellon faculty in 2013 after holding a postdoctoral research position at the DSP group at Rice University. He completed his Ph.D. in 2009 at the University of Maryland under the supervision of Dr. Rama Chellappa, Distinguished University Professor and Chair of Electrical and Computer Engineering at UMD.
The Diploma Ceremony was held on May 21, 2017 at the Petersen Events Center in Pittsburgh, PA.
Published May 25, 2017