Alumnus Bakhtiari Joins Univ. of New South Wales Faculty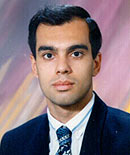 ECE alumnus
Sasan Bakhtiari
has accepted an offer to join the faculty of the University of New South Wales (UNSW) in Sydney, Australia.
After receiving a B.S. in Electrical Engineering at the University of Tehran in Iran, Sasan earned his M.S. in Electrical Engineering under the supervision of Professor Andre Tits in the summer of 2003. He continued his study at the University of Maryland, earning an M.A. in Economics in 2005 and a Ph.D. in Economics in 2008.
He will start his new position as Lecturer at UNSW in August.
Published June 16, 2008