Alumnus Han Granted Tenure at the University of Houston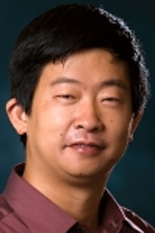 Alumnus Zhu Han (MSEE '99; Ph.D., EE, '03) has received tenure as an associate professor at the University of Houston.
Han teaches in the Electrical and Computer Engineering department, where he has worked since 2008. He was also an assistant professor at the University of Idaho, Boise, and a visiting professor at multiple universities. Han was the winner of the 2010 NSF CAREER Award for his research, "Mutual Benefit in Cognitive Radio Networks: A Coalitional Game Framework."
Han's research areas include wireless resource allocation and management, wireless networking and communications, wireless multimedia, security and game theory.
During his Ph.D. studies, Han was advised by Professor K.J. Ray Liu. After graduating Han worked as a research associate at the University of Maryland until 2006.
Published October 18, 2012