Alum Mingyan Liu is PI for Multiscale Network Games of Collusion and Competition MURI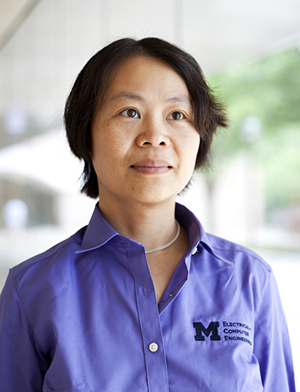 Alumna Mingyan Liu, professor in the Electrical Engineering and Computer Science Department at the University of Michigan, is the Principal Investigator for a 2018 Multidisciplinary University Research Initiative (MURI), one of 24 awarded this year by the Department of Defense. MURIs provide funding for up to five years to academic institutions for multidisciplinary basic research, subject to satisfactory research progress and the availability of funds. Together, the 2018 MURIs total $169 million in funding.
"Multiscale Network Games of Collusion and Competition" is funded by the Army Research Office (ARO). The project, built on game theory, will develop tools to understand and shape online and on-the-ground networks that drive human decision making. It will focus on areas such as international diplomacy, street crime, cyber-terrorism, military strategy, financial markets and industrial supply chains. The tools developed by the project could help researchers and officials tease out the innermost workings of networks as small as a group of online bots or as large as the global financial system.
The University of Michigan, with Liu as PI, is the lead institution for the $6.25M project. The other participating universities are the University of Southern California, Vanderbilt University, and the University of California, Los Angeles.
You can read a detailed story about this MURI project on the University of Michigan's Electrical and Computer Engineering departmental website.
At Maryland, Liu received her M.S. in Systems Engineering degree in 1997 and her Ph.D. in Electrical Engineering in 2000. She was advised by Professor John Baras (ECE/ISR) for both degrees. She is a 2017 ECE Distinguished Alumna.
Liu, a Fellow of IEEE, has research interests in resource allocation, performance analysis, and energy-efficient design of wireless, mobile ad hoc, and sensor networks. She received a 2002 NSF CAREER Award, the University of Michigan Elizabeth C. Crosby Research Award in 2003 and 2014, the 2010 EECS Department Outstanding Achievement Award, the 2015 College of Engineering Excellence in Education Award, and the 2017 College of Engineering Excellence in Service Award. Her cyber risk startup company QuadMetrics was acquired in 2016 by FICO, the company known for credit rating scores.
About the Department of Defense's 2018 MURI awards
In 2018, the U.S. Department of Defense is issuing 24 awards totaling $169 million to academic institutions to perform multidisciplinary basic research. This is a six million dollar increase above 2017's total. The awards are for up to a five year period, subject to satisfactory research progress and the availability of funds.
"The Multidisciplinary University Research Initiative program, or MURI, supports research by funding teams of investigators that include more than one traditional science and engineering discipline in order to accelerate the research progress," said Dale Ormond, Principal Director for Research, in the Office of the Under Secretary of Defense for Research and Engineering. According to Ormond, most of the program's efforts involve researchers from multiple academic institutions and academic departments. "MURI awards also support the education and training of graduate students in cutting-edge research areas, Ormond stated.
The highly competitive MURI program complements other DoD basic research initiatives that support traditional, three year, single-investigator university research grants. By supporting multidisciplinary teams with larger, longer awards in carefully chosen and relevant research topics, DoD and the Services enhance the potential for significant and sustained advancement of research in critical areas of importance to National Security and the DoD's mission.
The Army Research Office, the Air Force Office of Scientific Research, and the Office of Naval Research solicited proposals in 24 topic areas important to the DoD and the Services. In response to the initial solicitation the department received 436 white papers. After two rounds of merit-based reviews, a panel of DoD scientists and experts narrowed the proposals to 100 from which the 24 final awards were selected. Based on the proposals selected in the competition, 64 U.S. academic institutions are expected to participate in the 2018 MURI program. In addition, this year, for the first time, Australia has funded research teams to work together with two U.S. MURI teams. This cooperation is in line with the Secretary of Defense's direction to strengthen our alliances, and collaborate whenever and wherever possible.
Over the past 30 years, DoD's MURI program resulted in significant capabilities for our military forces and opened up entirely new lines of research. Notable examples include foundations in the fabrication of nanoscale and microscale structures by the processes of self-assembled materials (SAM) and microcontact printing, the integration of vision algorithms with sensors to create low-power, low-latency, compact adaptive vision systems, and advances in fully optical data control and switching. These and other important technological advances from the MURI program have impact on current and future military capabilities.
Published May 8, 2018