Symbiont Health, Co-founded by ECE Major Erich Meissner Wins Pitch Dingman Competition & Do Good Challenge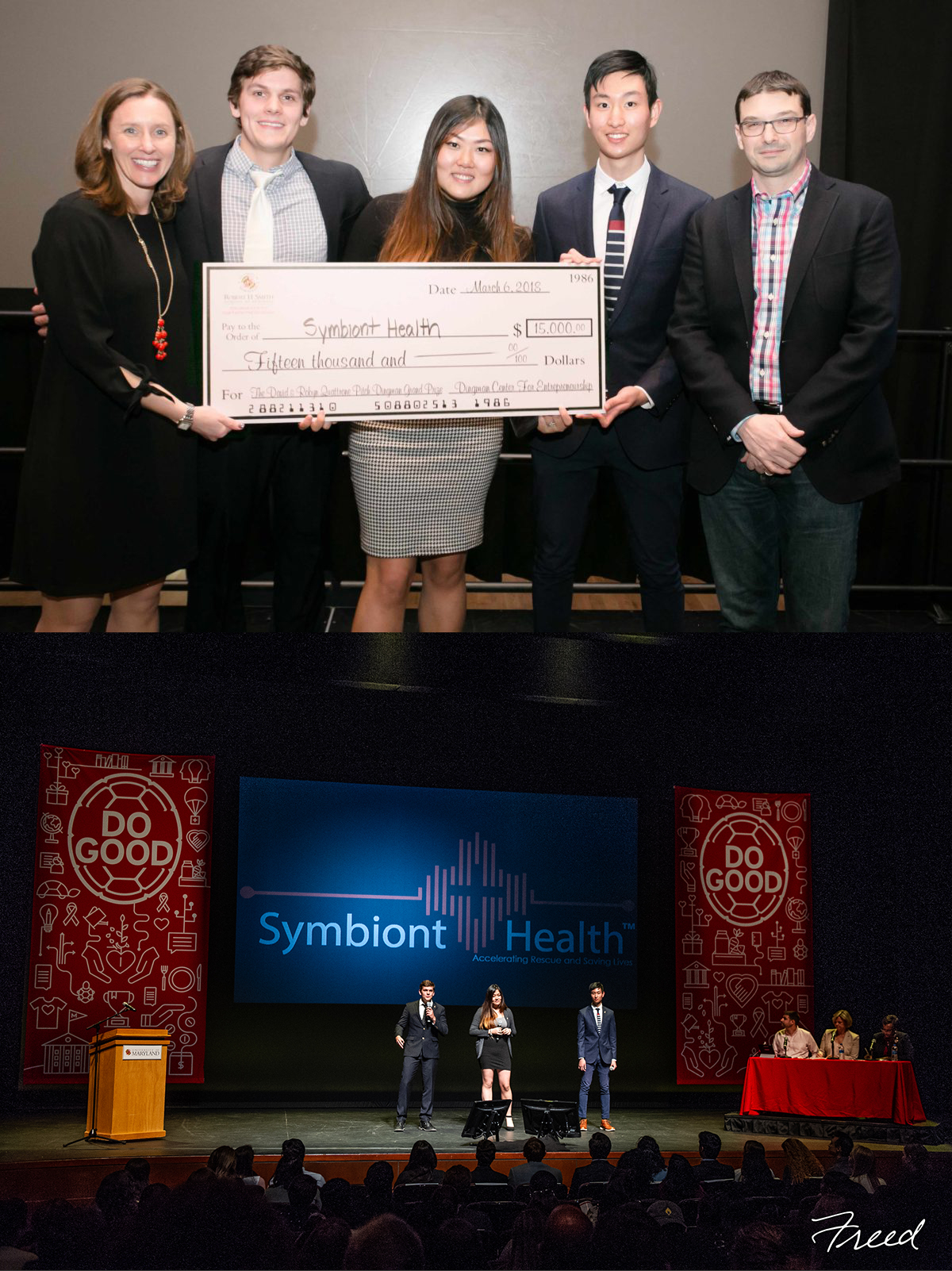 Earlier this spring, Symbiont Health took home the $15,000 grand prize at the University of Maryland's Pitch Dingman Competition in front of 600 students, faculty, alumni and VIPs. A total of five teams took the stage to compete in the final "Shark Tank" –style pitch session. Seven judges from assorted industries assessed each startup's current level of success, plan for using the funds, and their overall growth potential.
Team members of Symbiont Health include Electrical and Computer Engineering major Erich Meissner, Computer Science major Kyle Liu, and Biological Sciences major Maria Chen. Their new enhanced medical alert system to help accelerate the response and rescue of elderly persons who fall and lose consciousness is similar to a Wi-Fi router and does not require wearable devices, sensors or pendants. The device is placed in a room and emits wireless signals that bounce of walls, objects, and people. The software algorithms interpret those reflections and create a 3D model of the environment. This technology is similar to the method by which bats navigate a dark cave using echolocation. Falls have a unique and easily identifiable pattern, and Symbiont sends a text, call, and/or email alert to a pre-defined list of recipients.
The Pitch Dingman Competition is chaired by businessman and philanthropist Robert G. Hisaoka and is hosted by the Dingman Center for Entrepreneurship at the Robert H. Smith School of Business.

In addition, Symbiont Health recently competed in the University of Maryland's School of Public Policy and its Do Good Institute's 7th Annual Do Good Challenge, and won first place in the Venture Category, winning $5,000. This is the second year that Symbiont has participated in the Do Good Challenge Competition.
Six student groups competed as finalists in the Do Good Challenge this year. The Challenge is funded by DGI and sponsored by Morgan Stanley Private Wealth Management, and supports the university's culture of philanthropy, innovation, and entrepreneurship.
On future plans, Meissner says, "Symbiont Health will be proving the product this summer after partnering with three retirement homes in which over 300 seniors live. During the summer of 2017, we went through a similar process of customer discovery and rapid iteration of the wearable fall detection device. We fell into two issues with the wearable approach: it was a logistical nightmare for nurses to manage all of these wearables and no matter how pretty we made the device, seniors would just not keep it on. Our team is excited to take another crack at this astounding issue of elderly falls. The recent wins are exciting because many serial entrepreneurs have given their stamp of approval after judging us into the first-place spot! Please stay updated by joining the newsletter at SymbiontHealth.com!"
Published May 7, 2018