Alumna Dana Wiggins' Startup Seize Named to Techstars Seattle's 13th Cohort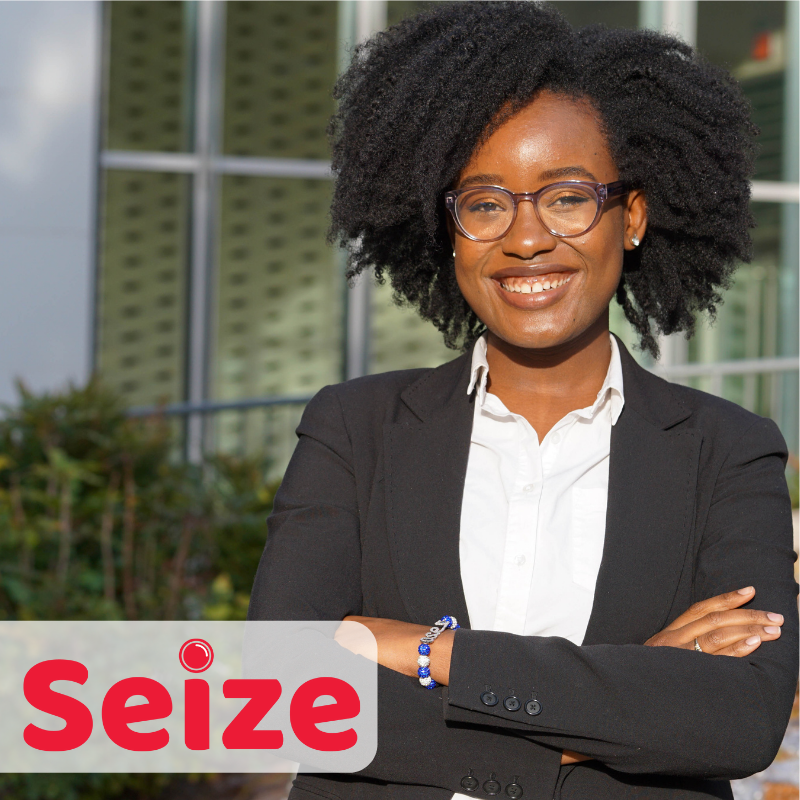 Dana Wiggins graduated from the University of Maryland, College Park in December 2020 with a degree in computer engineering. While at Maryland, she was an undergraduate teaching fellow for the Electrical and Computer Engineering Department's Engineering Ethics and Introduction to Programming courses, and a member of the Black Engineers Society and the University Honors Program. Outside of school, she participated in a number of internships with companies including NASA in Greenbelt, MD, Capital One in College Park, MD, and with Zillow in Seattle, WA and San Francisco, CA. It was her internship in the golden city which led to her idea to develop a photo-taking mobile app.
"I came up with the idea for an app during the summer before my senior year," says Wiggins. "I was touring San Francisco one day and ventured up to Twin Peaks (two hills that rise 1000 feet above the city), but I couldn't get a good photo of myself there since I was exploring the city alone."
She returned to Maryland to graduate in December 2020 and joined Microsoft as a software engineer, but worked diligently with Al Tearjen, a University of California, Davis alumna, on how they could address this photo-taking need by conducting market research and setting up signs in scenic areas with "ask me to take your photo" on it, which sparked interest from crowds. Wiggins and Tearjen discovered that people are generally happy with smartphone quality photos, and are willing to pay a small fee for them. After gathering this information, they developed Seize The App, a marketplace mobile application that connects people to photo takers at picturesque spots. Their idea was accepted to a UC Davis accelerator program in June 2020, which supported them in the early stages of product development through education, mentorship, and financing.
Seize can be thought of as an "Uber for photography," in which you can head to a scenic location, set up your photographer preferences such as type of phone, gender, etc. and the app will match you with a verified photographer in the area. Photographers will have ratings, reviews, and a portfolio of their past Seize photoshoots. While photographers are taking the photos, they will appear immediately on your phone through the app. This allows for you to provide real time feedback of the photos, and make adjustments during the shoot.
As young, solo travelers, Wiggins and Tearjen are prioritizing safety features with the app, so photographers must use their own cell phone to take the photo to deter theft, and the app disables screenshots and screen sharing. Photographers will also be vetted and hired through referral programs. "The key is to provide a fun and safe experience for individuals visiting new scenic spots, so they can capture all of life's precious memories," says Wiggins.
Catherine Master, a UMD alum, has also helped build Seize. Master graduated from UMD with a degree in electrical engineering and has volunteered her time and expertise to help develop the application. As a photographer herself, she has provided the team insight about ways to attract photographers early on and how to help train photographers for mobile app photoshoots.
The team is currently testing a beta app and plans to launch Seize this Spring. They will be partnering with museums to start, and will launch city by city. They've recently been selected to Techstars Seattle's 13th cohort of early-stage startups. Techstars Seattle portfolio companies have raised more than $1.5 billion of growth capital following completion of the program, and over 75 percent of the program's alumni companies have exited or are still running today.
Upcoming Seize features will include the option to book photography in advance and select photo packages based on time and number of photos requested.
Between working full-time at Microsoft and co-founding an app, Wiggins attributes the rigorous curriculum at UMD for teaching her agile development and time management skills.
"We are in charge of the entire product, so my experience at UMD really helped me to stay organized and know where to begin on Seize," says Wiggins. "There are so many pieces involved, from the backend to frontend, cloud services, marketing, legal, and more, to build a new business."
Her favorite class at UMD was ENEE 447: Operating Systems. "I took it remotely due to the pandemic, but I still learned a ton and now understand the basic building blocks of operating systems," says Wiggins. She also started out as an electrical engineering major but switched to computer engineering due to her love for ENEE 140: Introduction to Programming.
Seize will be launching soon and is looking for photo takers! For more information, visit https://seizetheapp.io/.
Published December 6, 2021