Alumnus Chaitali Chakrabarti Wins ASU's Joseph C. Palais Distinguished Faculty Scholar Award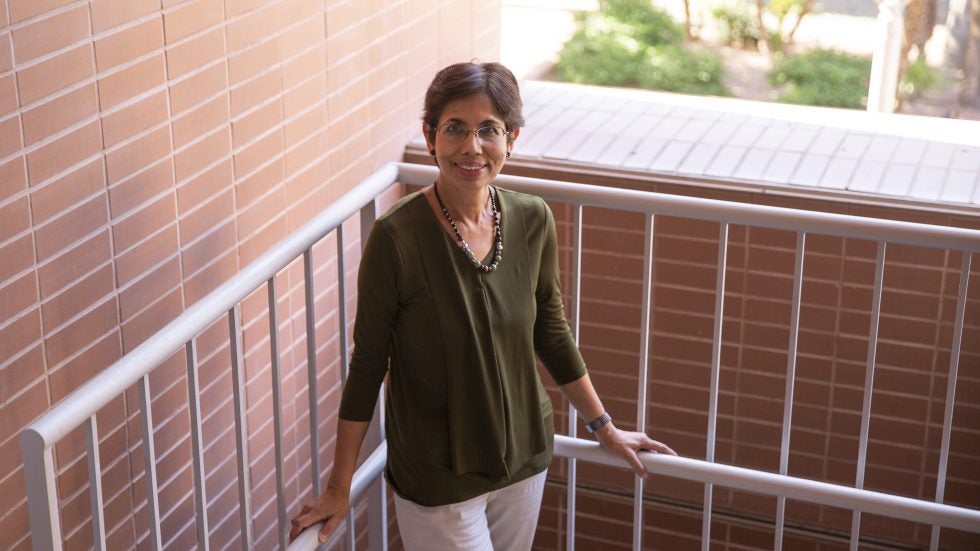 Chaitali Chakrabarti (M.S. '86, Ph.D. '90) has received the Joseph C. Palais Distinguished Faculty Scholar Award for excellence in research, teaching, and community service at Arizona State University (ASU). The award was established in 2016 and celebrates outstanding faculty members of the Fulton Schools electrical engineering program.
Chakrabarti joined ASU in 1990. She is a world-renowned and passionate researcher on algorithm-architecture co-design of signal processing and communication systems, low-power embedded system design, reliable and energy-efficient in-memory computing and secure edge computing.
In ASU's announcement, Chakrabarti says, "I feel very honored, to say the least. I started at ASU right after completing my PhD, so this has been home for 31 years. To think that my colleagues considered me deserving of this prestigious award meant the world to me."
Stephen Phillips, the School of Electrical, Computer and Energy Engineering director, added that Chakrabarti's mentorship to over 70 doctoral and master's students, both in the lab and in the classroom, has made a tremendous impact in the field.
Additionally, when Chakrabarti joined ASU, she was only one of two women in the department. Since then, the department has grown to 14 women faculty members.
She has published more than 300 journal and conference articles, including three IEEE Micro Top Picks papers and received seven best paper awards. She was elected Fellow of IEEE in 2012.
Chakrabarti is considered a great collaborator. Her work includes more than 15 years of joint research with faculty from the University of Michigan on software-defined radio and ultrasound imaging, which has led to many highly cited papers, including best paper awards. She collaborates extensively with faculty in both circuits and systems at ASU and is the associate director of The Center for Wireless Information Systems and Computational Architectures.
While at Maryland, Chakrabarti was advised by Professor and Interim Department Chair Joseph JaJa. She attributes her passion for research and teaching to his superb mentorship! Chakrabarti received the Electrical and Computer Engineering Department's Distinguished Alumni Award in 2013, and the Indian Institute of Technology, Kharagpur, Alumni Award in 2018.
In 1994 the Fulton School awarded her the Best Teacher Award in the Young Faculty category and in 2001, she received the IEEE Phoenix Chapter's Outstanding Educator award.
For her excellence in teaching and mentoring at ASU, she received the Fulton Exemplar Faculty Award two years in a row (2014-2015 and 2015-2016) and the Fulton Schools Top 5% Faculty award for five of the last eight years.
Chakrabarti is recognized as an inspiring educator by her peers and students alike.
"It's Dr. Chaitali's inspiration and guidance that empowered me," says Ming Yang, one of Chakrabarti's former students and the 2014 recipient of the Dean's Dissertation Award. "She transformed me from a novice into an expert in a research area I had no idea about."
Published September 24, 2021