Alumnus Jie Chen Promoted to Full Professor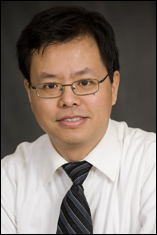 Alumnus Jie Chen has been promoted to full professor in the Department of Electrical and Computer Engineering at the University of Alberta (Edmonton, Canada). He received his M.S. in 1992 and Ph.D. in 1998, both in Electrical and Computer Engineering from the University of Maryland. Christine Yurie Kim Eminent Professor of Information Technology K.J. Ray Liu advised his Ph.D. studies.
Prior to joining the University of Alberta, Chen worked in industry for 7 years focusing on research and management at Bell-Labs and Hughes Network Systems, Inc. He acquired entrepreneurial experience while helping establish two Bell-Lab spin-off companies. One company was acquired by QUALCOMM in San Diego, the other, iBiquity Digital Coorporation, produces digital car radios sold at Walmart and Bestbuy.
He has coauthored two books, three book chapters, 64 peer-reviewed journal papers, and 54 peer-reviewed conference proceeding papers. He has been granted 4 patents, and several patents have been licensed to 3 Canadian companies.
Chen has received numerous awards such as the Canada Foundation for Innovation (CFI) Leaders' Opportunity Award by the Canada Foundation for Innovation, Institute of Electrical and Electronics Engineers (IEEE) Distinguished Lecturer Award by the Circuits and Systems Society (2004-2005), and Best student paper award at IEEE/National Institutes for Health (NIH) 2007 Life Science Systems & Applications Workshop. His research on designing miniaturized ultrasound device for intra-oral dental tissue formation was listed by "Reader's Digest" as a major medical breakthrough in Canada in 2006.
Chen's current research interests are in applying nanotechnology for biomedical applications, particularly in the areas of cross-disciplinary bio-medical nanotechnology. A few of his projects include devising an ultrasound device to proliferate stem cells for tissue engineering, the generation of biofuel; and nanoparticles which will affect gene/drug delivery, cancer diagnosis and treatment.
Published July 24, 2012