Alumnus Wins Canada's Killam Award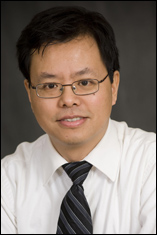 Alumnus Jie Chen is a 2015 recipient of the Killam Annual Professorship Award. The Killam Annual Professorship was established in 1991 and is one of the most prestigious awards granted to professors at Canadian universities; Chen is one of five to receive the 2015 award at the University of Alberta. The award recognizes faculty members based on the quality of their scholarly activities including teaching, research, publications, creative activities, presented papers, and supervision of graduate students. Recipients are chosen based on two criteria: a record of outstanding scholarship and teaching over three or more years, and a record of substantial contributions to the community outside the university.
Chen is a full professor in the Department of Electrical and Computer Engineering at the University of Alberta (Edmonton, Canada). He is also a research officer at the Canadian National Research Council/National Institute for Nanotechnology (NINT). Dr. Chen is a Fellow of the Engineering Institute of Canada. He received his M.S. in 1992 and Ph.D. in 1998, both in Electrical and Computer Engineering from the University of Maryland. Christine Yurie Kim Eminent Professor of Information Technology K.J. Ray Liu advised his Ph.D. studies.
Prior to joining the University of Alberta, Chen worked in industry for 7 years focusing on research and management at Bell-Labs and Hughes Network Systems, Inc. He acquired entrepreneurial experience while helping establish two Bell-Lab spin-off companies. One company was acquired by QUALCOMM in San Diego, the other, iBiquity Digital Coorporation, produces digital car radios sold at Walmart and Best Buy. Chen is currently the program leader for a NINT Program. He previously led two Alberta Health Service Projects from 2010-2012 (worth $1.1M) and has been a co-PI of another 5-million dollar project.
Dr. Chen has trained 68 highly qualified personnel including 4 post-doctoral fellows, 18 Ph.D. and 15 M.Sc. students. One of those students is now an assistant professor at Johns Hopkins University. Two have continued to Stanford, and one to Yale Medical School. He has coauthored two books, 82 peer-reviewed journal papers, and 71 peer-reviewed conference proceeding papers. His H-index is 26 and total citations are more than 2,750. He has been granted 7 patents, several of which have been licensed to 3 Canadian companies.
Chen has received numerous awards such as the Canada Foundation for Innovation (CFI) Leaders' Opportunity Award by the Canada Foundation for Innovation, Institute of Electrical and Electronics Engineers (IEEE) Distinguished Lecturer Award by the Circuits and Systems Society (2004-2005), and Best student paper award at IEEE/National Institutes for Health (NIH) 2007 Life Science Systems & Applications Workshop. His research on designing miniaturized ultrasound device for intra-oral dental tissue formation was listed by "Reader's Digest" as a major medical breakthrough in Canada in 2006.
Chen's primary research interests include (i) Designing and micro/nanofabricating portable impedance-based microfluidic point-of-care biosensors (one of the Internet-of-Things). (ii) Developing pulsed wave therapeutic instruments (forming dental tissues, removing scares, repairing meniscus, alleviating depression). The platform technology can also stimulate the growth of microorganisms for increasing biofuel production and wastewater treatment. Three US patents and two EU patents were issued. Several companies licensed some inventions. (iii) Building functional nanomaterials for targeted drug delivery and genetic modified agricultural products. His research has been funded by the National Science Foundation (NSF), Natural Sciences and Engineering Research Council of Canada (NSERC, equivalent to NSF in US), Canadian Institutes of Health Research (CIHR, equivalent to NIH in US), the Canadian Foundation of Innovation (CFI), Alberta Innovates, the Canadian Breast Cancer Foundation, etc. The total funding amount exceeds $12 Million Canadian Dollars during the past ten years (Note that the funding sizes in Canada are smaller than those in US because overheads are not included in award amounts).
Published August 4, 2015