Alumnus Profile: Jameel Francis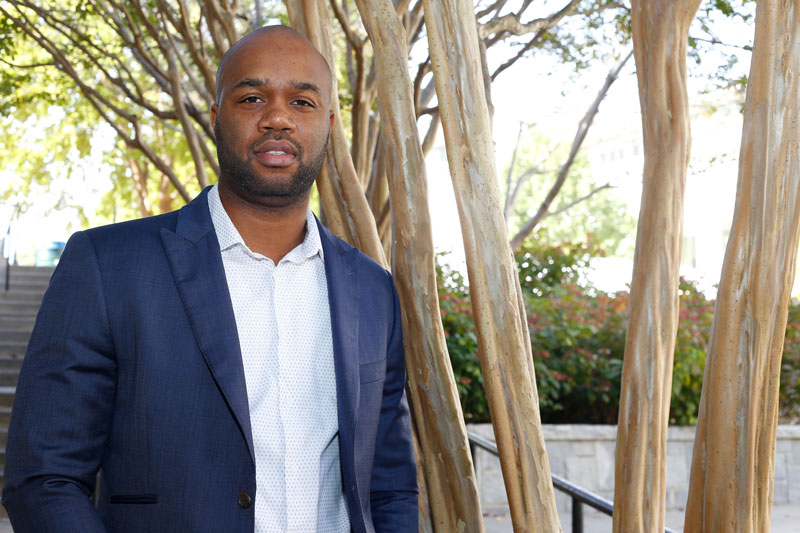 Jameel Francis (B.S. EE '08) is the co-founder and CEO of ComYoot, a mobile technology and analytics startup. Jameel has over eight years of experience in consulting across Information Technology and Mergers Acquisition sectors combined.
ComYoot provides a mobile app that allows students, faculty, and alumni from the same university to connect across departments, or colleges to foster collaboration on research, startups, and to help each other advance professionally. ComYoot is a play on the words "community and commuting," as highlighted in The Diamondback, and uses machine learning, text and data analytics, and matching algorithms to help users quickly access the entire community anywhere anytime.
It was during his years as an Electrical and Computer Engineering student at the University of Maryland, College Park (UMD) that Jameel experienced difficulty in connecting with others outside of his major to collaborate with on research and startup ideas. His idea though to remedy this would come later in the fall of 2015 while an MBA student at Carnegie Mellon University (CMU) in Pittsburgh, PA.
But when choosing to attend the A. James Clark School of Engineering, it was a no brainer for Jameel, as it ranked highly and was close to home.
"UMD is the best school. I had a great experience while attending; there were many late nights studying but I ultimately chose it to receive a world class education for great value. In-state tuition was very important to me because my brother was deployed as a Marine while I was in school, so I was very happy to be close to my family at home."
While at UMD, Jameel was also an Undergraduate Research Assistant at The University of Maryland Institute for Advanced Computer Studies (UMIACS). Of his experience, Jameel says, "research on campus was phenomenal. I learned how to conduct research on my own and learn problem solving skills. In addition, I was also able to take some entrepreneurship courses, and I encourage those who are interested in pursuing business ventures to take them too, as well as writing classes with english and journalism majors, and it will separate you from others when you graduate."
After graduating from UMD in 2008, Jameel joined Booz Allen Hamilton as a Senior Consultant and worked in the DC area with government based clients in network engineering security. During that time he also founded a tutoring company, and then later co-founded an e-commerce company. He realized he had a calling for operating and running businesses, therefore he decided to pursue his MBA in entrepreneurship, finance, and strategy, and in 2015 started at CMU's Tepper School of Business program. That fall, the idea for the app was born and an internship at Google focusing on strategy operations solidified Jameel's desire to develop ComYoot. He teamed up with Shaina Tucker, ComYoot's Marketing and Sales Vice President, currently employed at a large consulting firm, and a 2009 alumna of the Smith School of Business to grow the app. He and Shaina originally met while members of the Caribbean Student Association at UMD.
While Shaina supports with tasks execution and project management activities for ComYoot, Jameel applies his curiosity and leadership skills and sees himself as the coach of the team to bring the best out of people. "Our efforts are fueled when we receive positive feedback from users who are able to connect with others," says Jameel. "In addition, growth of the app and seeing the evolution of the team and overcoming roadblocks and challenges has made the ComYoot team much closer."
The ComYoot team wants to help bridge the information gap on university campuses starting with UMD, and looks forward to partnering with research faculty to improve the way research opportunities are communicated to students. In addition, the team looks forward to partnering with UMD's entrepreneurship community to help create more diverse and successful teams.
On advice Jameel and Shaina have for current Terps, they say, "explore areas outside of your major to make new connections and to figure out what your passions are. Also, reach out to alumni for advice and guidance to understand their career paths as well."
ComYoot has a growing team of student representatives, and if you are interested in joining, they are interested in talking to you!
Published March 15, 2018