Baras and Mayergoyz named Distinguished University Professors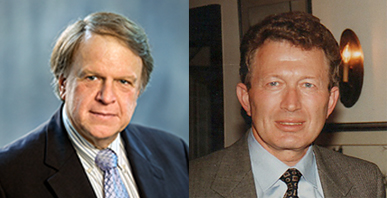 Electrical and Computer Engineering faculty members John Baras and Isaak Mayergoyz have been named Distinguished University Professors of the University of Maryland. Prof. Baras holds a joint appointment in the Institute for Systems Research (ISR) and is the Lockheed Martin Chair in Systems Engineering. Prof. Mayergoyz is an Alford L. Ward Professor and Distinguished Scholar-Teacher of the ECE Department. They will formally receive the prestigious title at the University's Convocation this fall.
Distinguished University Professor is an official title and the highest academic honor that the University of Maryland confers upon a faculty member. It is reserved for a small number of exceptionally distinguished scholars.
Distinguished University Professors are selected from faculty who have been recognized nationally and internationally for the importance of their scholarly or creative achievements and who have demonstrated the breadth of interest characteristically encompassed by the traditional role of scholar, teacher, and public servant.
Prof. Baras was the Founding Director of the Institute for Systems Research (one of the first six NSF Engineering Research Centers) from 1985 to 1991. Since August 1973 he has been with the ECE Department, and the Applied Mathematics Faculty, at UMD, where he is currently a Professor holding a permanent joint appointment with ISR. In February 1990 he was appointed to the Lockheed Martin Chair in Systems Engineering. Since 1992 Prof. Baras has been the Founding Director of the Maryland Hybrid Networks Center (HyNet) (an industry-university-government consortium, with substantial support from DoD, NASA and industry focusing on hybrid wireless networks). Since 2013, he has been Guest Professor at the Royal Institute of Technology (KTH), Sweden.
He received the 1980 George Axelby Prize from the IEEE Control Systems Society, the 2006 Leonard Abraham Prize from the IEEE Communications Society, the 2014 Tage Erlander Guest Professorship from the Swedish Research Council, and a three year (2014-2017) Senior Hans Fischer Fellowship from the Institute for Advanced Study of the Technical University of Munich, Germany. In 2016 he was inducted in the A. J. Clark School of Engineering Innovation Hall of Fame of the University of Maryland, and received the 2017 IEEE Simon Ramo Medal, and the 2017 AACC Richard E. Bellman Control Heritage Award.
Prof. Baras is an IEEE Life Fellow, SIAM Fellow, AAAS Fellow, NAI Fellow, IFAC Fellow, and a Foreign Member of the Royal Swedish Academy of Engineering Sciences (IVA).

His research interests include systems and control, optimization, communication networks, signal processing and understanding, applied mathematics, robotics, computing systems and networks, network security and trust, and model-based systems engineering.
He received the B.S in Electrical and Mechanical Engineering from the National Technical University of Athens, Greece, in 1970, and the M.S. and Ph.D. in Applied Mathematics from Harvard University in 1971 and 1973.
Prof. Mayergoyz has been awarded the title of Distinguished University Professor in recognition of his highly innovative work in mathematical modeling of hysteresis and computational nanoscience.

Prof. Mayergoyz received his M.S. and Ph.D. degrees in the former Soviet Union where he worked as a senior research scientist in the Institute of Cybernetics of Ukranian Academy of Sciences before his emigration to the United States. In 1980, he became a full professor of the UMD ECE Department. In cooperation with Prof. Fawzi Emad, he established the electric power engineering curriculum and educational program in the ECE Department and has maintained it for more than 30 years. For many years, he served as a consultant for the Research and Development Center of General Electric Company and has been selected as a visiting research fellow of this center. He has authored and co-authored 14 books and over 400 scientific papers.

In 1987, he received the Outstanding Teacher Award of College of Engineering. In 1988, he became a Fellow of IEEE. In 1994 he became a Distinguished Lecturer of the IEEE Magnetics Society as well as a Distinguished Scholar-Teacher of University of Maryland, College Park. In 2009, he was appointed the Alford L. Chair of Engineering and received the Achievement Award of the IEEE Magnetics Society, the highest award given by the society, that same year. He was recently selected to be featured on the 2017 IEEE Magnetics Letters journal, in recognition of his unique contributions to the area of magnetics. He has served on numerous IEEE committees, editorial boards of scientific journals, and as the Editor of Academic Press-Elsevier Electromagnetism series.
His areas of research include plasmon resonances in nanoparticles, nonlinear magnetization dynamics induced by spin-polarized current injection, fluctuations in nanoscale semiconductor devices, mathematical models of hysteresis, stochastic analysis of systems with hysteresis, drive independent recovery and forensics of hard disk data, computational electromagnetics, and power engineering.
Published June 20, 2018