Barbe Wins Olympus Lifetime of Educational Innovation Award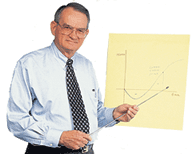 Dr. David Barbe
, professor of electrical and computer engineering at the University of Maryland and executive director of the Maryland Technology Enterprise Institute (
MTECH
), won the Olympus Lifetime of Educational Innovation Award. This award recognizes faculty members who have demonstrated a sustained contribution throughout their careers to stimulating and inspiring innovative thinking in students in their own universities and throughout academia.
Barbe's achievements as professor of electrical and computer engineering and executive director of the university's Maryland Technology Enterprise Institute (Mtech) since 1985 were recognized by Olympus on Friday, March 21, when he received the 2008 Lifetime of Educational Innovation Award. The award was presented at the 12th Annual Meeting of the National Collegiate Inventors and Innovators Alliance (NCIIA)--Olympus' partner in conducting the Olympus Innovation Awards Program--in Dallas, Texas.
Barbe has a proven record of leadership in creating one of the leading innovative technology entrepreneurship cultures at a U.S. university, through successful programs such as the university's Hinman CEOs program and its Technology Startup boot camp, both of which have become models that are replicated nationwide, as well as through the Maryland Industrial Partnerships (MIPS) program.
"On behalf of my colleagues at MTECH and the University of Maryland, I am honored to receive this award," said Barbe. "At MTECH, we have consistently focused on results and building programs that will drive technology-based entrepreneurship and bring new, successful technologies to the marketplace. I feel privileged that Olympus, the NCIIA and a committee of peers considered our work and are recognizing it today."
The Olympus Innovation Award Program, now in its fourth year, represents Olympus' ongoing commitment to technological innovation and education. For more information on the Innovation Award Program, as well as photos from the award ceremony, please visit http://www.nciia.org/.
Published March 27, 2008