Chellappa Delivers Kick-Off Lecture for New IEEE Signal Processing Chapter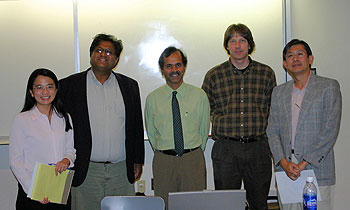 Dr.
Rama Chellappa
, Minta Martin Professor of Electrical and Computer Engineering (ECE) and Director of the Center for Automation Research of the Institute for Advanced Computer Studies, delivered a lecture at the opening event for the new Washington, D.C. chapter of the IEEE Signal Processing Society, held on September 20, 2006, at the University of Maryland's College Park campus. Chellappa spoke on the subject of face and gait recognition research before a group of around 80 individuals from universities, industry, and government agencies.
Chellappa explained that the latest advances in face and gait recognition are enabling the integration of biometrics into video-based surveillance systems for homeland security and other applications. He discussed the challenges in getting these biometrics to work reliably, and how innovative research, including the award-winning work from his research group, can help address these problems.
The Washington chapter of the IEEE Signal Processing Society was recently approved by the Washington section, IEEE Region 2, and the IEEE Signal Processing Society. The new group includes over 200 members from the D.C. metropolitan area, many of whom are active participants in the society's conferences, journals, and leadership activities. The new local chapter will foster interactions among members, create opportunities for them to share common interests, and facilitate collaborations and career development.
During the kick-off event, Washington chapter members also elected ECE Associate Professor Min Wu as Chapter Chair and Computer Science Assistant Professor Ramani Duraiswami as Vice Chair.
More information about Dr. Chellappa's research can be found at:
http://www.umiacs.umd.edu/~rama/index.html.
For more information about the new Washington chapter of the IEEE Signal Processing Society, please contact washington.sps@ieee.org.
Published October 4, 2006